Prof Chris Budd
---
Professor Chris J Budd OBE, FIMA, C Math, NTF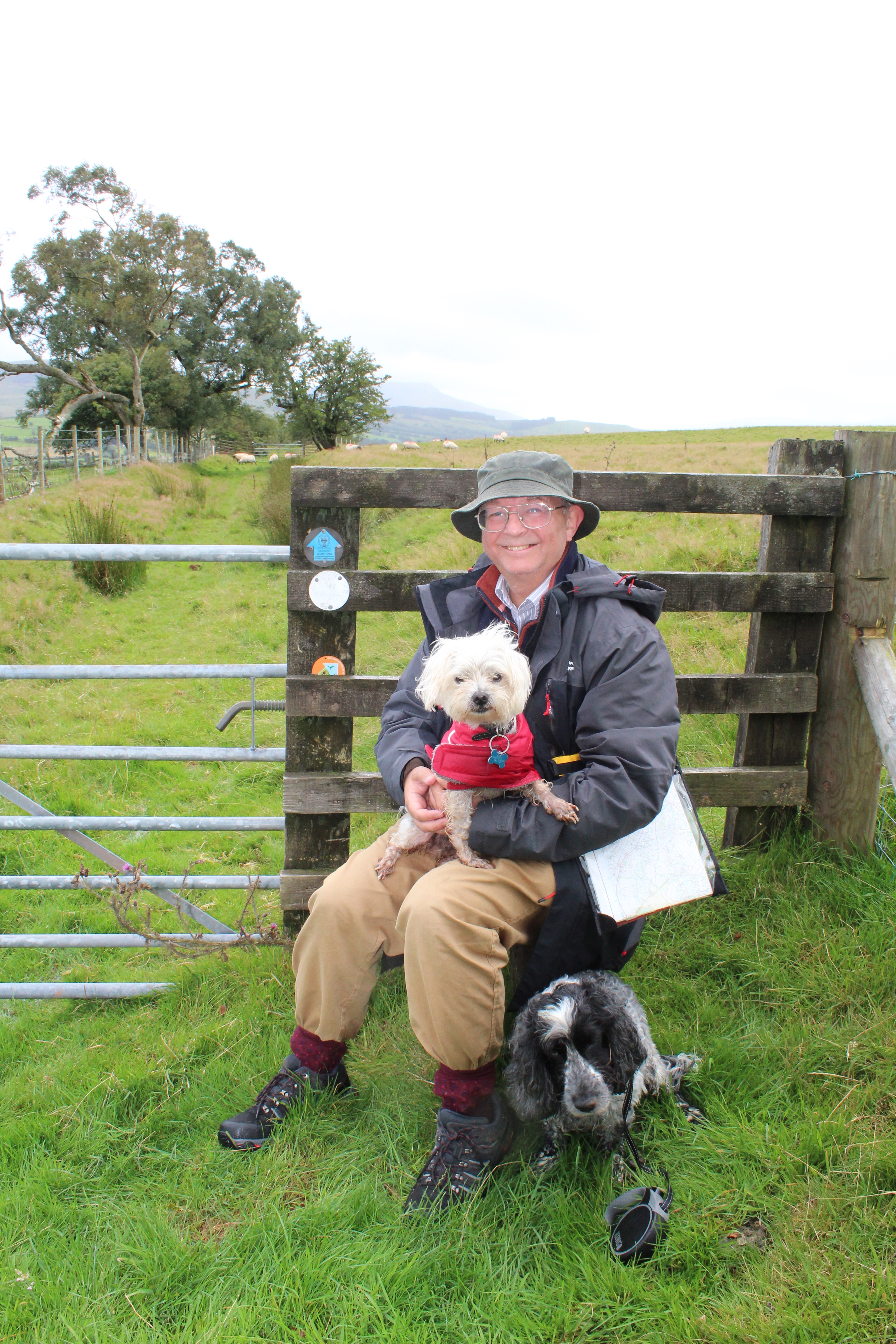 Chris, Josh and Monty. Josh is in the red coat and I am the one with the green hat.
---
General stuff
Positions:
Postal Address:

Dept. of Mathematical Sciences
University of Bath
Claverton Down
Bath
BA2 7AY
United Kingdom


Telephone: +44 (0)1225 386241
Fax: +44 (0)1225 386492
E-mail Address: mascjb@bath.ac.uk
Here is my Curriculum Vitae


---
Publications and talks
Academic articles
Academic presentations
Articles for the general public about maths
Talks for the general public about maths
---
Research Interests

I am interested in the theory, application and computation of nonlinear problems (linear problems are for cissies) with special interest in problems which arise in industry.
Adaptive moving mesh methods , with applications in meteorology and modelling climate




Data assimilation methods, with applications in meteorology and climate
The mathematics of machine learning
Nonlinear elliptic and parabolic partial differential equations, especially problems with singularities.
Non-smooth dynamical systems (with applications to climate and machine learning) see my book on Piecewise-smooth Dynamical Systems: Theory and Applications,

Optimal transport methods (with applications to mesh generation, propagation and machine learning)
Power electronics
Inverse problems including saving the whales
I also have a very strong interest in interdisciplinary projects closely linked to applications ranging from geology to micro-wave cooking and from digestion to folk dancing.
I am keen to take on PhD students in any of these areas. They can join my fabulous group of PhD students all involved in research in industrial maths and/or environmental sciences.

Current PhD Projects
Raising the roof . NERC PhD. Matt Griffith, Nick Mitchell, Met Office
Non-smooth models for climate Botswana PhD Kgomotso Susan Morupisi
Indoor LTE and WiFi propagation ICASE PhD. Hayley Wragg, Keith Briggs (BT)
Inverse problems in EEG Shaerdan Shataer
Surge in turbochargers Samba/IAAPS PhD. Kate Powers, Chris Brace, Paul Milewski, Colin
Mitigation zones for seismic surveys and marine animals KTP/PhD Guillermo Jimenez Arranz, Phillipe Blondel, SEICHE
Adaptive mesh methods for the shallow water equations Simone Appela, Tristan Pryer, Met Office
Machine learning for CME predications Chinese PhD Scholarship, Tina Zhou, Tom Haines, Met Office
Impact of climate change on cocoa farming Samba PhD. Tosin Babasola, CRIN
Inverse problems in ocean acoustics NPL funded PhD, Gianluca Audone, Matt Nunes, Phillipe Blondel, NPL
Current/recent PDRA Research Projects
MIVOR: Impact of climate change on the National Grid NGC funded. Beate Erhardt, Mixhong ??, Ghenghong Gu, NGC
Machine learning for hip fracture detection Arthritis Society, Beate Erhardt, Richie Gill
Moving meshes on the sphere with applications to weather prediction NERC
Along with Victor Galaktionov and Johannes Zimmer I was coordinator of the Bath Node of the FIRST (Fronts and Interfaces in Science and Technology) Marie Curie training network. See FIRST Network for more information about the project, workshops and positions.
---
Knowledge Exchange:


I belive strongly in the power of knowledge exchange centred around mathematics. Mathematics is both the enabler of advances in other disciplines and industry, it has also much to learn from the the challenges that working in these areas brings. (For an account of my views on this see my Gresham lectures> on 'Mathematics and the making of the modern world.


---
Education and Public Engagement Interests:

I have a passionate interest in promoting mathematics to the general public, especially to young people. I love giving talks about maths to any audience and have appeared at many science festivals including New Scientist Live (above) and the Heidelberg Luareate Forum.

Please get in touch if you would like me to give you a talk.

I am happy to give FREE talks to all ages on many subjects related to the importance and relevance of mathematics to real life.

For examples of talks see my 24 Gresham lectures on the theme of 'Maths and the making of the modern world' (which will be coming out as a series of books) and also fun presentations for the general public .

More details of my activites in maths education and public engagement are given below


---
Teaching

My philosophy for teaching is simple. Be aware of (and enjoy) you audience and be hugely enthusiastic about your subject. Anyone that says that teaching and research don't go together is talking rubbish

Current courses

MA10236 Mathematical methods 1B
MA30241 Communicating maths


Previous courses
---

If you are interested in getting involved in public engagement work and would like to find out more, then have a look at my talk
---


Some of my talks/articles/courses on maths education:
---
Communicating Mathematics
In 2001 I was awarded a National Teaching Fellowship NTFS and have used this to create a degree credit programme on Communicating Maths . Maths Communicators
is a description of the course and this is a National Coordinating Centre in Public Engagement Case Study . Do have a look and email me if you would like to take this course yourself. If you are interested in running such a course, then here is a Handbook on how to do it
---
Research talks:
These are some research talks on data assimilation, meteorology, geometric integration and mesh generation
---
Bath Centre for Nonlinear Mechanics and the Bath Institute for Complex Systems, BICS:
I am director of the interdisciplinary Bath Centre For Nonlinear Mechanics which encourages interdisciplinary research through the modelling and application of nonlinear systems. From 2004-2010 I was director of the Bath Institute for Complex System BICS ,an interdisciplinary institute exploring the many aspects of complex systems and their applications.
---
MSC in Modern Applications of mathematics:
I am director of the Bath Msc course in Modern Applications of Mathematics which aims to give a training in modern interdisciplinary applied mathematics to anyone interested in applying mathematics in their career. For further information email or look at the home page for the MSc above.
---
Public talks, lectures and workshops:
Here are a collection of some of my talks, which can be given either as stand alone lectures or as part of a workshop with extra activities. I have tried to indicate the age range for the workshops. The workshops have resource materials and worksheets attached. PLEASE DOWNLOAD AND USE them for any reasonable educational purpose.


---
Mathematics Galore:
A new popular book called `50 Visions of Mathematics' will be published by OUP in 2014
---
Bath Taps Into Science:
Is an annual science road show, which I help to organise at the University of Bath and in Green Park Station in Bath as part of National Science and Engineering Week. The 2002 event won a prize from the Institute of Physics for `outstanding contributions to the public understanding of physics'. The 2009 event won the British Science Association award for the best science festival during National Science and Engineering Week. Click here for more details Bath Taps Into Science Festival If you want to have a look at Bath Taps in action here is a video .

---
Posters and articles:
---
Undergraduate Course Material:
Worksheets, handouts and general information on courses can be found here
---
MSc Course Material:
---
Facts about hamsters
By popular demand, here are some facts about hamsters

---
Quotes:
The following summarise my attitude to life, mathematics etc.
I'm playing all the right notes, but not necessarily in the right order.
Call that a band, I've seen better bands on a cigar.
"Captain, for me to save our lives I have to perform actions which violate several known laws of physics and require me to develop a completely new theoretical understanding of five-dimensional hyperspace, all in under 5 seconds", " Do it Spock!"
If you think that you know all the answers, then you are not asking the right questions
Money cannot buy you happiness. But it can buy you marshmallows.
He digs deepest who deepest digs.
There is no I in TEAM. There is also no I in Hamster. However there is an I in Gerbil and two Is in Guinea Pig
All known mathematics has already been discovered by an obscure Russian working in the late 1940's
If all else fails, hug your teddy.
---
[University of Bath] [Dept. of Mathematics]