Profile
The overall aim of my research is to deliver healthy and comfortable low-carbon buildings that perform well into the future. This research lies at the intersection of three key global grand challenges: climate change, energy security and health. I have secured over £1.4M as Principal Investigator and £7.4M as Co-Investigator in research funding from a range of funding bodies. I received the Excellence in Teaching award from the University of Bath and Students' Union in 2015-16, and was nominated for the Mary Tasker award in the same year.
---
Projects
I am either leading or involved in several projects that touch on the themes below in relation to the built environment, listed under Current Projects in the sidebar. Projects that have ended can be found in the obviously titled Completed Projects section. The Disjecta Membra page contains things that don't naturally fit anywhere else on this site - mostly code snippets that I think others may want to use.
---
Thinking about Climate Change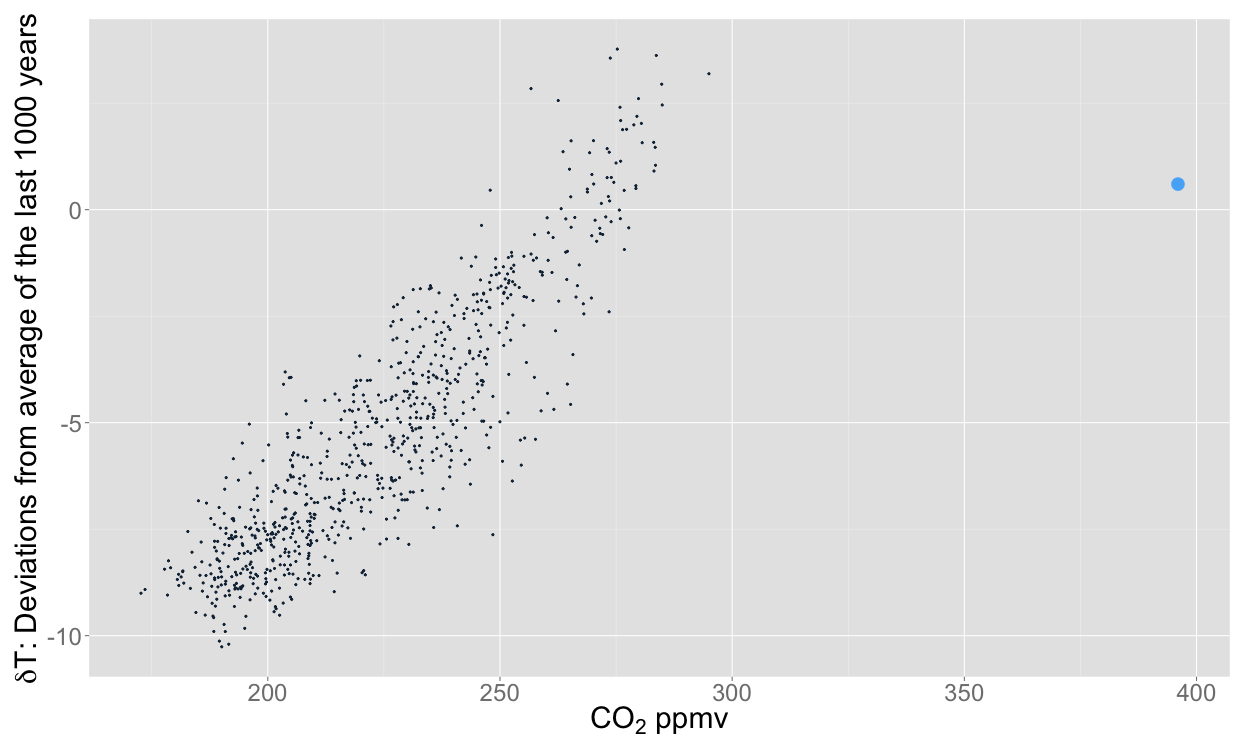 Graph constructed using data from: Luthi, D., et al.. 2008. EPICA Dome C Ice Core 800KYr Carbon Dioxide Data. IGBP PAGES/World Data Center for Paleoclimatology Data Contribution Series # 2008-055. NOAA/NCDC Paleoclimatology Program, Boulder CO, USA. EPICA Dome C Ice Core 800KYr Deuterium Data and Temperature Estimates. IGBP PAGES/World Data Center for Paleoclimatology Data Contribution Series # 2007-091. NOAA/NCDC Paleoclimatology Program, Boulder CO, USA.
I constructed this graph as a single image that captures the unique challenge we face as a species as the result of a changing climate. Each black dot is the average temperature and CO2 concentration over a 1,000 years for a climate record stretching back 800,000 years. To put that number into perspective, reflect on the fact that home sapiens as a species has only been around on the planet for about 200,000 years. In other words, the climate record we now have stretches back four times longer than our own evolutionary presence on Earth. The blue dot represents "now" - the dot is moving too fast for me to update it frequently, but its general trend is sharply to the right and gently upwards. Temperature is measured as deviations from the mean of the last 1,000 years. It may suprise you to learn that the Earth, on average, has run colder than present - this is because this temperature record contains ~4 ice ages. Although the data are 1,000 year averages, the mean standard deviation for the dataset is quite small (I'll try to post these here at some point).
---
Grand Challenges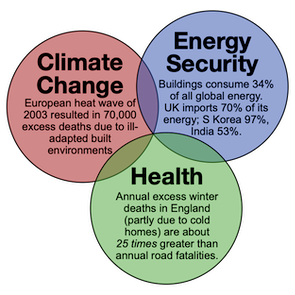 The big takeaway from the graph above, obviously, is that the level of CO2 we are pumping in to the atmosphere is simply unprecedented. The pressure this places on almost every human system including food, water, energy and habitats is now quite well-known. In my research I am interested in the intersection of climate change with two other prominent problems in the built environment: energy security and health, encapsulated in the diagram below.