Gregory Sankaran
Department of Mathematical Sciences, University of Bath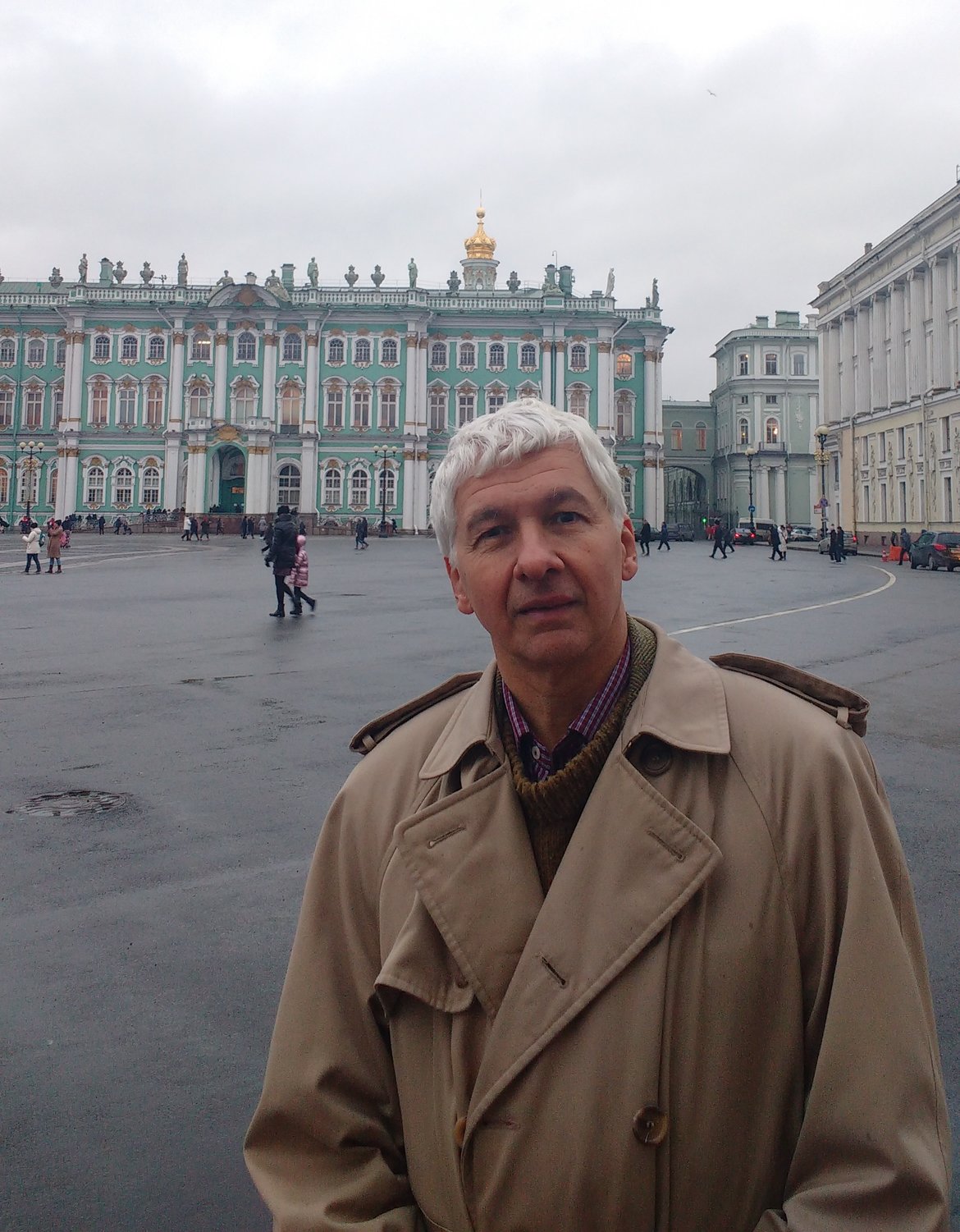 I am a Professor of Pure Mathematics in the Department of Mathematical Sciences at the University of Bath. This page is here to give some basic information and to direct visitors, most of whom are me, to more useful pages:
Mathematicians' personal web pages are expected to have a picture of them in an interesting foreign city. This one is in St Petersburg.
Contact information
I work in the algebra, geometry and number theory group AGeNT of the Department of Mathematical Sciences at the University of Bath.

My email address is gksankaran@gmail.com and I don't care who knows it. For Bath University official and internal matters, use G.K.Sankaran@bath.ac.uk instead.

Other ways to contact me, in order of decreasing usefulness:
My office is 4W5.16, at snacks.wedge.stove. The office number does mean something. W means West of the library, which is further from the bus stop: 4 is an even number so it is on the south side, opposite the library. 5 means the fifth floor, but the count goes from the basement so if you are on the Parade you are at level 2, so you need to go up three levels to find my office. Here are some directions, and a map.
Postal address:
Department of Mathematical Sciences,
University of Bath
Bath BA2 7AY
UK
Office phone: +44 (0)1225 386220. Leaving voicemail generates an email alert to me, though I can't actually hear the voicemail that way.
Skype: gksankaran, but you have to do this by appointment.
Twitter: I am @gks1 but I don't use it much.
I am not on any other social media of any kind, especially Facebook.
Other coordinates (my home address, my mobile number, the landline at home) are available if and only if I have given them to you.
Mathematical research
My mathematical interests are mainly in algebraic geometry.
It is impossible to have interests entirely in algebraic geometry, because algebraic geometry is too big. In my case, some of what I do could be described as number theory, and a few bits could be described as topology, algebra, complex analysis or even (this always surprises me) computer science.
My mathematics research page carries a list of my papers. It also tells you about my research students, past and present.
Teaching
I teach one or two courses a year, depending on how big they are. They are usually algebra, number theory or geometry. Teaching is fun, but unfortunately it is associated with other things, such as exams, which are no fun for anybody. Exams are the worst way of finding out how a student has progressed, except for all those other ways that have been tried from time to time.
My teaching page carries a list of my teaching, with links to some possibly still useful web pages.
Other professional things
I do various other things that are difficult to classify but are related to my job.
University of Bath
In 2018 I was elected to the University of Bath Senate, which is the ultimate academic authority of the university. If you want me to raise relevant matters at Senate, contact me in one of the ways above and we can discuss it.
Seminars, conferences and meetings
I am the local Bath organiser of the COW seminar but I ceased to be the main organiser in 2018. I am still one of the owners of the mailing list, though, so if you want to join it you can do that by emailing me.
In 2020, Bath will host LMS Prospects in Mathematics. I am one of the organisers.
In 2022, it is planned that Bath will host the British Mathematical Colloquium. I am one of the organisers.
Abram Gannibal Project
I am a co-I on the EPSRC-administered, GCRF-funded project EP/T001968/1 entitled Capacity building in Africa via technology-driven research in algebraic and arithmetic geometry. This is part of the wider Abram Gannibal Project, which aims to assist the development of high-level mathematics in Africa. The actual development must, of course, be done by Africans.
EPSRC
I am on the EPSRC Peer Review College, which means that if you write a grant proposal in a subject I know something but not too much about, there is a good chance I'll end up reading it.
I am on the EPSRC Mathematics Strategic Advisory Team, which means, er, I don't know, I've only just joined it and I haven't had to do anything yet.
Cricket
The Bath University Venturers Cricket Club is a University team open to all staff and graduate students of the University of Bath, and therefore belongs on this professional page. I play for it, and I organise the fixtures.
Personal
My personal page is strictly unofficial and explains a bit more about who I am and what I am interested in.