Excitonic Solar cells
How do Excitonic cells work? Why Excitonic?
When a photon (a particle of light) is absorbed by the light-active component in an excitonic solar cell, a negatively charged electron is excited to higher energy. A positively charged hole is therefore also created on the molecule at the point where the electron is now absent. When the electron is initially excited it remains strongly bound to the hole due to typically low dielectric constants in organic semiconductors. This electron-hole pairing creates an excited state that behaves like a particle so we call it an
exciton
, giving these types of solar cells their name.
An interface between two different materials - an electron-transfer material that accepts the electrons and a hole-transport material that accepts the holes - is then needed to split the exciton into a separate electron and a hole. The electron and the hole can then separately migrate to different electrodes.
The charge separation of the negative charge and postive charges to different electrodes is crucial as it sets up an electrical potential (voltage). This drives a flow of electrons (current) round an outer circuit (that connects the two electrodes) where they can do some work, like power an electrical device. Once the electrons recombine with the hole at the other electrode, the system is reset and the whole process can be started again with another photon.
How do Perovskite cells work?
The active layer in perovskite cells consists of a semiconductor with the perovskite structure shown below for the widely used methyl ammonium lead iodide composition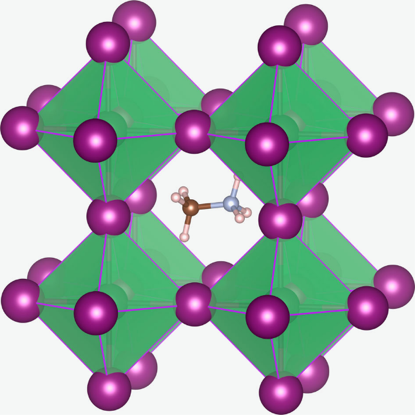 In this figure, taken from Eames et al Nature Comm
6
7497 (2015), the purple spheres are the iodide ions and the methyl ammonium is the organic molecule at the centre. The lead ions sit in the middle of the green octahedra.
A standard planar cell architecture is shown below (James Cave, 2017)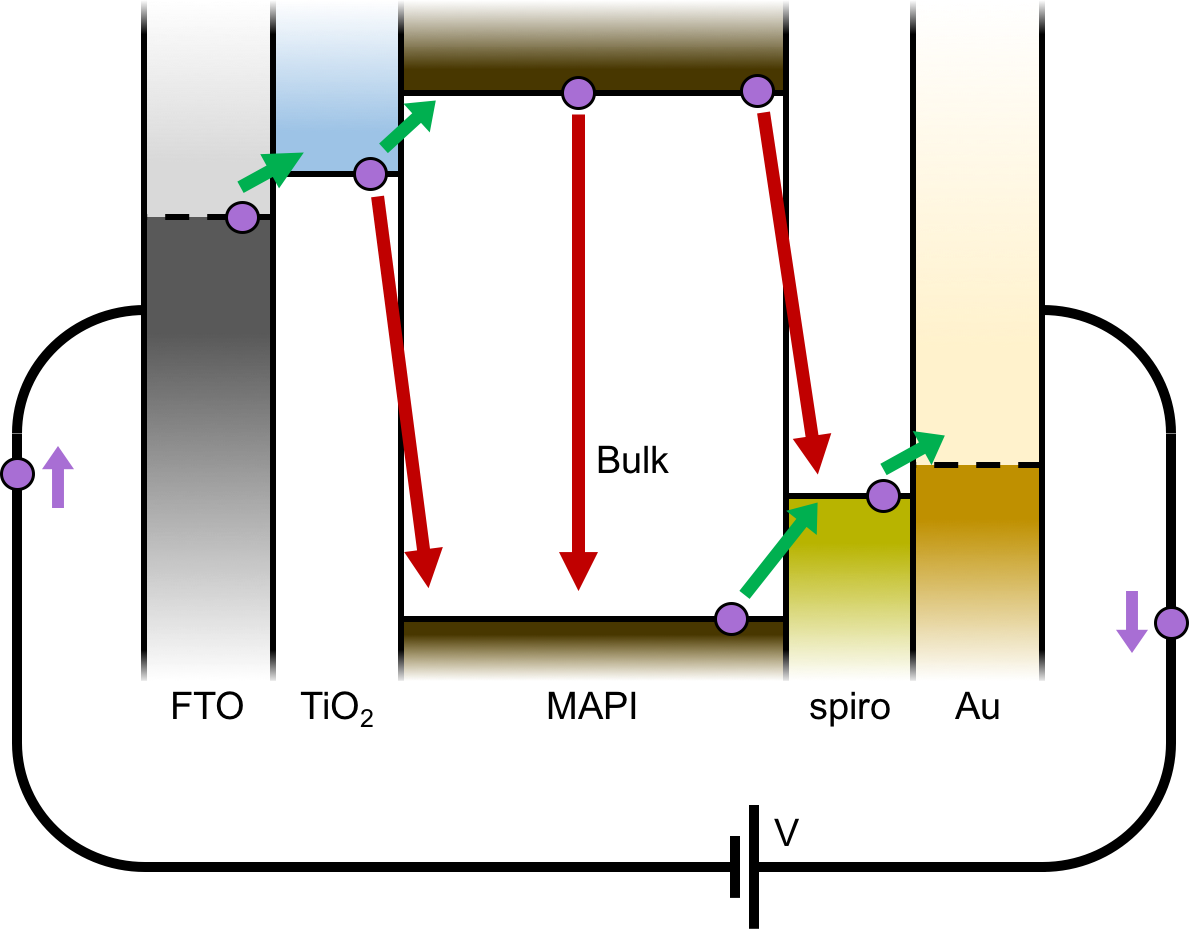 Light harvesting in perovskite cells takes place in the perovskite layers which are strong absorbers of incident solar radiation. The absorbed light excites electrons across the bandgap to create mobile electrons and holes that move towards respectively the electron transporting layer (TiO
2
) and the hole transporting layer (spiro).
Holes leaving the Au contact re-enter the device via the fluorine doped tin oxide contact. The red arrows indicate recombination processes resulting in a loss of cell power efficiency are shown.
Perovskite and dye-sensitized cell Publications