UK EU Referendum 23 June 2016
Click
here
for a video on reasons on why the UK should have remained in the EU. See also
Statement from Venki Ramakrishnan, President of the Royal Society
and, on 20 June,
EU referendum: An open letter to UK voters from leaders of 103 British universities
Current Research Topics
A more detailed description of my research and publications are given on my
Alison Walker's Research webpage
My research group
Ian Thompson, organic devices (Extmos EU project)
Dibya Ghosh, perovskite solar cells (EoCoE EU project)
Matthew Wolf, perovskite solar cells (Supersolar EPSRC project)
James Cave, perovskite solar cells (CDT-PV)
Tom McManus, organic transport and proteins (University HPC studentship)
Alex Smith, organic solar cells (CDT-PV)
Chris Morris-Knox Novel p-type transparent conducting oxides (CDT-PV)
Click here
to access my TEDX talk given at the University of Bath in 2014, a 16 minute video where I describe my research on new organic light emitting diodes, photovoltaic devices and novel solar photovoltaic cells
<!LLLLLLLLLLLLLLLLLLLLLLLLLLLLL>
Solar cells
Solar cells are devices that produce electricity from the sun's energy through the creation and subsequent dissociation of an exciton. The way in which they work is similar to natural photosynthesis.
What types are there?
There are several solar cell technologies and in each, the light-active component and other cell materials are different.
Click here to access a 6 minute video where the motivation for my research on cheaper, flexible and sustainable solar cells is discussed with Petra Cameron and Aron Walsh.


Useful Links
The Solar Spark
solar power education website
Protein simulation
The relationship between the structure of a protein and its function is vital to understanding how molecules give rise to biological effects. The flexibility and dynamics of proteins in many cases drives their functional activity. We are studying for example the enzyme
citrate synthase
shown below responsible for catalysing the first reaction of the citric acid cycle. The temperature variation of its rigidity influences extremophiles, organisms who thrive in different temperature regimes.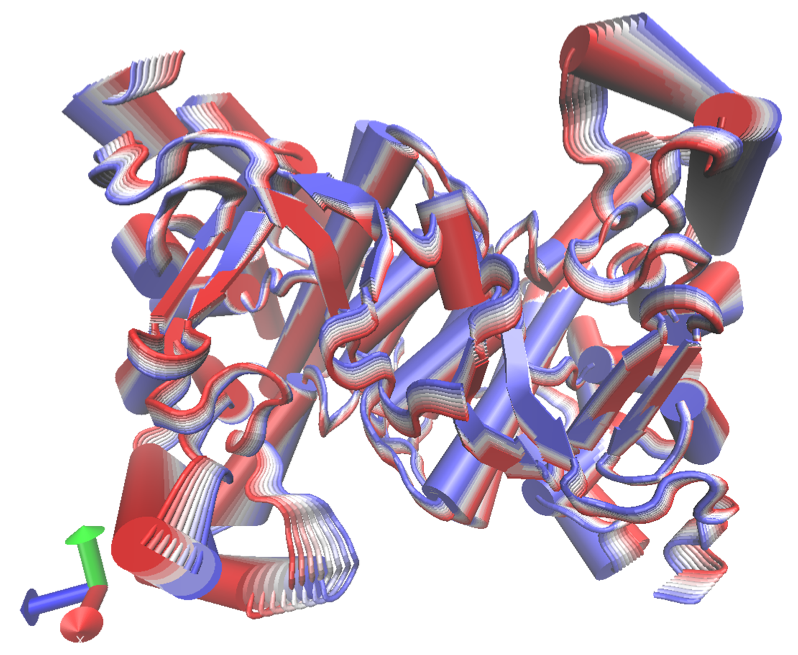 3.5 year studentship at Bath starting Oct 2018
This studentship is advertised on
FindAPhD
where you can apply for the studentship.
This studentship is funded by the
GW4 BioMed Doctoral Training Partnership, DTP
The studentship is on
Modelling structure and interactions of antibodies and antigens
. Knowledge of antibody structure is vital for medicine and biotechnology. Fast, accurate protocols incorporating flexibility and antibody-antigen binding will be developed and validated against structures from experiment. Modelling is aided for antibodies by division into highly variable antigen binding loops and a relatively invariant scaffold.
The project will be aided by studies using the GW4 shared facility for cryo-microscopy at Bristol starting Sept 2017 which will transform analysis of the molecular components of living systems.
The Nobel Prize in Chemistry 2017 was awarded to Jacques Dubochet, Joachim Frank and Richard Henderson "for developing cryo-electron microscopy for the high-resolution structure determination of biomolecules in solution"
The supervisory team in addition to myself is
Dr Marc Van der Kamp, Bristol Biochemistry
,
Professor Jean van den Elsen, Bath Biology & Biochemistry
,
Dr Susan Crennell, Bath Biology & Biochemistry
.
The studentship is available to those who have been resident in the UK for at least 3 years. Applications can be made on the GW4 Biomed DTP website in the period 24 Sept to 24 Nov 2017 and successful candidates following interviews Dec 2017 to Jan 2018 will be notified 30 Jan 2018. For further enquiries please contact me by email, a.b.walker"at"bath.ac.uk
<!Begin RRRRRRRRRRRRRRRRRRRRRRRRR>
Organic Materials and Devices
We're all taught at school that plastic is an insulator, but some carbon-based small molecules and polymers do conduct electricity. Unlike silicon-based electronics, organic electronics are relatively low performance but cheap and flexible. And when they conduct, they can light up, click here for my article on lighting based on organic light emitting diodes (OLEDs), be used in displays, or convert light to current in photovoltaics.

Click here to access the press release on the Horizon2020 research project Extmos, EXTended Model of Organic Semiconductors, that I coordinate. The motivation for my research on flexible and printable electronics is discussed with Enrico Da Como. A 3 minute video has been filmed on the Extmos research that can be seen on that website and can also be found by clicking here.


What devices are there?
Organic Field Effect Transistors used in smart packaging, brand protection, security, smartcards, distribution tagging and Radio Frequency Identification Devices, interactive media, disposable electronics, and (flexible) display backplanes.

Display Devices Incorporation of flexible electronics in textiles can be used in phototherapy,

clothing for the public services.

Organic devices are being developed that can restore or replace functions of the human body through managing the interface between electronic devices and cells, tissues and organs.

At the University of Bath, I work with the Molecular Optolectronics group headed by Dr Enrico Da Como.


Useful Links
IDTechEx
Printed electronics news
OLED-Info OLED TVs, displays and lighting