BATH GEOLOGICAL SOCIETY
FIELD TRIPS & VISITS 2019
Further details from the Field Trips Secretary
field@bathgeolsoc.org.uk 01249 443019
---
February
March
April
May
June
July
August
September
October
November
---
February
---
Return to Top
---
Brown's Folly Nature Reserve
Leader: Professor Maurice Tucker, University of Bristol
The annual, morning clear-up of the Great oolite exposures on the SSSI reserve near Bathford. Bring your secateurs and hedge trimmers to cut back the vegetation and clean up the outcrops, or just take the opportunity to visit the sites and talk about geology.
Meet at 10.30 a.m. at Brown's Folly Car Park (G.R. ST 798663). Strong boots, waterproofs and hard hats are required.
Photos of the event: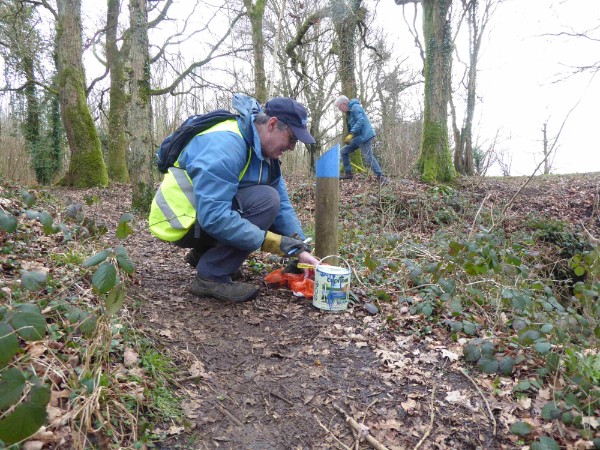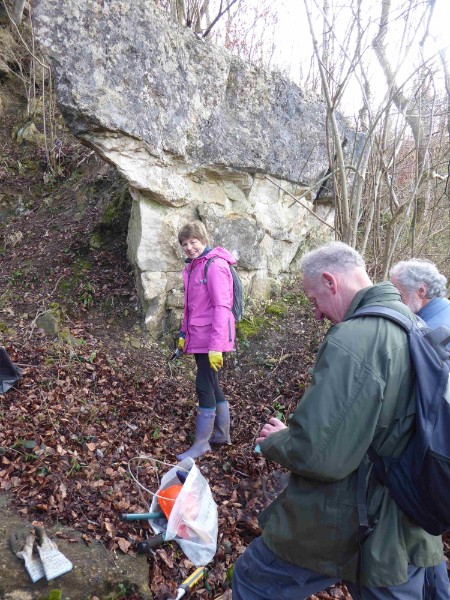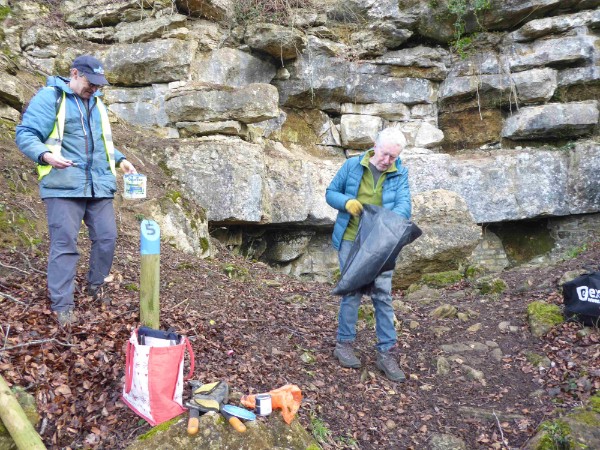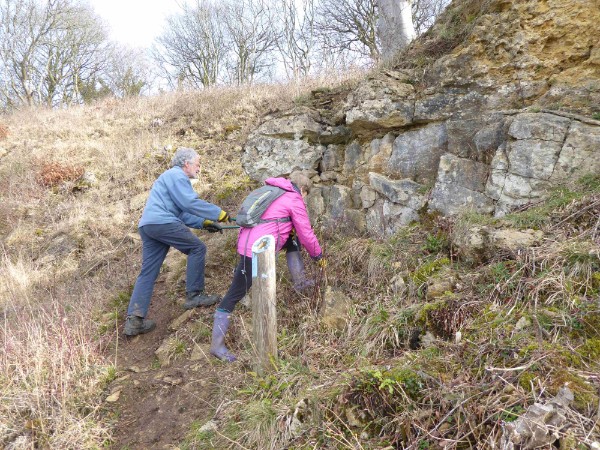 Saturday, 16th March
Oxford Palaeontology Symposium
Six speakers all in one day, chaired by Dr Ross Anderson.
For details & tickets, see www.ogg.rocks/oxford-palaeontology-symposium-2019
---
Return to Top
---
---
Return to Top
---
The Etches Collection & Kimmeridge Bay
Leader: Graham Hickman, Bath Geological Society
The Etches collection in the Museum of Jurassic marine life is the largest, single collection of Kimmeridge fossils in the UK. Graham Hickman will lead our visit to Kimmeridge Bay, SSI, in the morning where most of the collection was discovered. We will have lunch in Kimmeridge, and after lunch will visit the Museum.
Meet at the Bay car park for 11 am. Car park fee: £5.00. Museum entrance fee: £6.00 per person (min.10 people), otherwise £8.00 per person (includes 12 months complimentary admission to The Etches Collection), and free parking.
Thursday, 9th May
Harnham Water Meadows - Wiltshire Geology Group
Leader: Dr Hadrian Cook, Harnham Water Meadows Trust Office 'Drowner'/Steve Hannath
A field visit has been organised for Thursday 9th May 2019 as part of the national GeoWeek activities. The morning will involve visiting the Harnham Water Meadows in Salisbury where Dr Hadrian Cook, the Trust's official 'drowner', will walk us round the meadows explaining the geology, hydrology and social history of the meadows. After lunch Steve Hannath will lead an interpretative walk round the Cathedral Close focussing on the geology and the local earth materials used in the construction of the buildings including the Cathedral.
Details for the visit outlined above are now as follows:
10.00 Meet at the Cathedral Close parking attendants box just beyond the Town Gate inside the Close. (Parking for the day in the Close will cost £7 and is the best value in town other than using the Park & Rides.)
Walk to Rose Cottage (HQ of the Harnham Water meadow Trust) along Town Path. (About 1 mile)
10.30 Meet Hadrian Cook, the 'official drowner' for a walk and talk around the meadows.
12.15 Lunch – local pubs and restaurants, Cathedral cafes, Museum café or sit by the river to eat own sandwiches.
1.45 pm Meet outside the Salisbury Museum in the Cathedral Close for interpretative walk around the Close.
3.15 pm Finish and depart
All times are approx. Strong boots are recommended for the water meadows.
Please email Clare Backman of the Wiltshire Geology Group at harrington_clare@hotmail.com to indicate your interest in joining.
---
Return to Top
---
June
---
Return to Top
---
Lower Wye Valley AONB – Tintern and Barbadoes Hill areas
Leader - Dave Green
The geology of the area is of Old Red Sandstone as far as Tintern and below this point to Chepstow it is Carboniferous limestone.
Meet at 10 am in Tintern Abbey car park, (G.R. ST 533 001), £3.00 no time limit.
We then transfer into as few cars as possible to go up to Tidenham, from where we walk down to Tintern via the Devil's Pulpit, and have lunch in Tintern. After lunch, we visit the quarries from which the abbey was constructed.
---
Return to Top
---
---
Return to Top
---
Guided Geology Trail Around Bath
Leader: Professor Maurice Tucker, University of Bristol
As a conclusion to their Heritage Open Days celebrations the Bath Royal Literary and Scientific Institution in conjunction with Bath Geological Society will be holding a guided walking trail throughout the city at the end of the summer. Professor Maurice Tucker will be leading the Bath Geology Trail on Friday 20th September and hoping for an extension of the sunshine while he does so.
Book your place and come along to BRLSI reception for Maurice's illuminating introduction to the trail which departs at 11am. Participants will then begin upon a trip around the city which will endeavour to help them to identify and explore the various stones from which Bath was constructed.
The walk will take approximately one hour, and those taking part will need to be wearing sensible footwear and feel confident negotiating the hillsides and cobbled streets of the city. All you need to do is sign up on Eventbrite!
Maurice Tucker is a leading British sedimentologist, specialising in limestones. From 1993-2011 he was Professor of Geological Sciences at Durham University and from 1998 – 2011 Master of University College, Durham. Currently, Maurice is working at the School of Earth Sciences at the University of Bristol and you might recently have read his article 'Bath Rocks' in the July 2019 issue of Bath Magazine and wished you could get to ask him some questions about it. This is your chance to come and spend the morning with a leading geologist and allow him to transform your image of the city and its foundations.
And what is it with Bath and geology? Considered the Cradle of English Geology due to its links to William Smith and his creation of the world's first stratigraphical map, Bath was once surrounded on all sides by quarries exploiting stone and these were used for storage during the second world war, or for the growing of mushrooms! Many of them are now blocked to prevent access, but the evidence of the relationship to stone can still be seen from all around.
But that still doesn't quite explain why BRLSI is the natural departure point for such a walk. The BRLSI founded in 1824 became the natural home for many of the amazing geological finds that made their way to the city in the light of Bath's geological reputation and to this day houses its own rich and extensive geological collection. It is the natural home for many local groups such as the Bath Geological Society and the Bath and Counties Archaeological Society and sells its own self- guided trail which celebrates the geological significance of Bath. The walk on the 20th September at once celebrates Bath's heritage but at the same time its own. BRLSI hope you can join the celebrations.
The walk will be a circular one taking in many familiar streets but exploring them by way of their building stones and their ancient geological origins. All walkers will receive a free coffee. To book your free place:
https://www.eventbrite.co.uk/e/geology-trail-around-bath-tickets-64356429814
30 Places available.
Friday 20th September to Monday 23rd September 2019
Reading Geological Society - Fforest Fawr Geopark, Brecon Beacons
Leaders: Dilys Howell, Geraint Owen
It is proposed to undertake a traverse of the Black Mountains - an excursion through the Carboniferous Coal measures, Old Red Sandstones and Limestones and into the Silurian sequences within the Sawdde Gorge, the glacial and landslide legacy in the Devonian Senni Formation and industrial remains associated with limestone and sandstone quarrying.
We will be led by Dilys Howell, author of the geological walks book 'The Land of the Beacons Way' and Dr Geraint Owen, recently retired geologist from Swansea University.
Both are very active members of the Geopark management group.  Alan Bowring, Geopark Development Officer will also meet with us. Travel will be by car and we will be staying in Brecon, in a small guest house run by a couple who are themselves enthusiastic geologists. Cost including bed and breakfast and local travel, but excluding evening meal will be £250.
For further information please contact:
carolegregory@btinternet.com or
Carole on 01628 623990
Monday 30th September 10 AM to 4 PM
Somerset Geology Group - Meeting & Trip to Fyne Court
Leaders: Garry Dawson & Richard Snelling
10.15 - 11.00 Welcome and progress with the Review of Somerset's Local Geological Sites (LGS) - our joint project with Somerset Environmental Record Centre (SERC):
An overview of where we are and progress this summer with the Mendips Wesley Harris (SERC) and Megan Trunks and Jon Hicks (SERC volunteers)
The overall context of SERCs work programme and systems; Leanne Butt (SERC's Manager)
Questions and discussion
11.00 - 11.45 Thinking about next steps
Opportunities for Geo-conservation in the Quantocks; Garry  Dawson (SGG)
Management of sites from the landowner's perspective; Richard Snelling (the National Trust's Countryside Manager for West Somerset)
Questions and discussion
11.45 - 12.15 Sharing information
Round to share information on other geo-conservation and geo- interpretation projects in or relevant to Somerset
Any other SGG business including ideas for the 2020 meeting
12.15 - 1.00 pm: Picnic lunch
We will be able to chat informally over picnic lunch, in the hall or outside if the weather is fine (the hall has a small garden area). You are welcome to bring a picnic - and/or there is a NT café within Fyne Court, only a couple of minutes walk away).
1.00 -2.15 - Site visit to LGS within the ground of National Trust's Fyne Court
a Morte Slates LGS of relatively modest interest , but it will enable us to look at the practicalities of management and conservation. Hosted by the National Trust and led by Garry Dawson and Richard Snelling www.nationaltrust.org.uk/fyne-court.
2.15 - 4.00pm - Second visit to a nearby Forestry England-owned site - to be confirmed.
Devonian Limestone, but our date may clash with forestry work there, so we may need to amend plans on the day. Led by Garry Dawson.
Please email Garry Dawson at Somersetgeology@gmail.com if you plan to come, so that we have an idea of numbers.
---
Return to Top
---
---
Return to Top
---
Moon's Hill Quarry, Tedbury Camp & De la Beche Unconformity
Leader: Somerset Earth Science Centre
An exploration of the Andesite and Carboniferous Limestone quarries at Moon's Hill during the morning, followed by a visit in the afternoon to the Jurassic and Carboniferous limestone exposures in the Tedbury Camp and the De la Beche Unconformity.
Maximum number: 20 people. Meet at 10am at the Somerset Earth Science Centre, Moon's Hill Quarry, Stoke St Michael, BA3 5JU.
Note: a minibus will take us to Moon's Hill Quarry, but we have to use our own cars for Tedbury Camp
Programme
10:00 Arrival & coffee
10:15 Introduction to SESC, Mendip Geology & Quarry Industry talk
11:10 Break & kit up for Quarry Tour
11:15 Moons Hill Quarry Tour – (view platform & excavation area if possible by minibus?)
12:15 Lunch – bring picnic lunch to eat at SESC (outdoor picnic tables)
12:45 Head to Fairy Cave Quarry in SESC minibus – walk site (access via climb over large boulders approx. 18" high at entrance to quarry).
13:45 Minibus to Tedbury Camp LGS, Great Elm – (10 min walk from bridge access via 30 steps)
15.00 Walk to De La Beche from Great Elm pond bridge – (20 min walk, steep slope access, but no steps)
16:00 Travel back to SESC for final questions and depart by 16.30.
Please note: Access to the Moons Hill quarry is dependant on works on the day. Please do let us know of any mobility issues, as getting into Fairy Cave quarry requires ability to climb over a few rocks. There will be steep steps/slopes and uneven ground at all sites.
Every visitor must bring -
Wellies or walking boots to wear on the quarry tour. (These are a requirement stipulated by the quarries.)
Clothing suitable for outdoor work, including waterproofs. Please ensure no one is wearing shorts, and legs and arms are covered.
A packed lunch.
Health and Safety
Our Education Officers hold First Aid at Work and have enhanced DBS status. First Aid kits are kept in the Centre and in the minibus but it is recommended that the group also bring their own first aid kit.
Staff carry a mobile phone in case of emergency. Risk Assessments have been prepared for all quarry tours and site visits.
Please note that -
All members of visiting groups must remain within the working areas designated by Centre staff.
Everyone should remain within their working group at all times and never go off alone.
Any injuries must be reported to a member of Centre staff.
In the event of any emergency at the Centre the assembly point is at the gravel area by the main entrance.
There is limited mobile phone signal at the SESC, please use our landline for emergency contact.
01749 840156
Please note that all personal belongings remain the sole responsibility of the owner during a visit to the Somerset Earth Science Centre or any of its field sites. The Centre and its staff cannot be held accountable or responsible for any such items.
DIRECTIONS INCLUDING MAP
Saturday/Sunday, November
Annual Reunion of the Geologists' Association
For details, see geologistsassociation.org.uk/festival/
---
Important Notice: Bath Geological Society Insurance
Each person attending a field meeting does so on the understanding that he/she attends at his/her own risk. The Bath Geological Society has Public Liability Insurance Cover for field and indoor meetings, but Personal Accident Cover and Personal Liability Cover remain the responsibility and personal choice of the participant.
There may be an element of appropriate cover included in house insurance or in travel insurance: although Bath Geological Society activities are not particularly dangerous members are advised to check whether exclusions apply to activities in which they plan to participate in case they wish to arrange further cover. An annual travel insurance may be the best solution for any member who regularly attends field events: this again is a matter of choice.
Please note however that all members participating in overseas events will be required to have travel insurance for the duration of the event: this is so that participants are covered for Medical, Repatriation and Personal Liability expenses. The Personal Accident element remains the personal choice of the member and again members are advised to check exclusions so that they can make an informed decision about the cover they want.
---
~END~