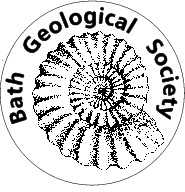 When people think of Bath they think of the Roman Baths and the Georgian houses. However, Bath has had a varied and exciting history long before the Romans got here.

One of our members took a nine days tour back in time and a one day trip into the future. Here are the postcards sent back to the Society by our intrepid explorer G.O. Logist


This site was produced by members of Bath Geological Society to show the conditions that would have been found in Bath in the last 340 million years. Over this time Bath has moved from a position near the equator to its present position at a latitude of 51 degrees 22 minutes north.
The photographs and pictures on this site have been collected by Society members over the years. Many are unreferenced; if we have used any of your work we would be happy for you to contact us and we will reference it or remove it as you wish.