EE home | University | Search | News | A-Z Index | Contact Us

Mapping the Underworld
A new EPSRC funded interdisciplinary, multi-University, project examining many aspects of road digging operations.
Abstract:
The problems associated with inaccurate location of buried pipes and cables have been very serious for many years and are getting worse as a result of increasing traffic congestion in the UK's major urban areas. These problems were highlighted at the first of the workshops hosted by the EPSRC Engineering Programme Network in Trenchless Technology and subsequently at a number of meetings with those in the industry and elsewhere who are either most affected or most able to make improvements (i.e. the stakeholders).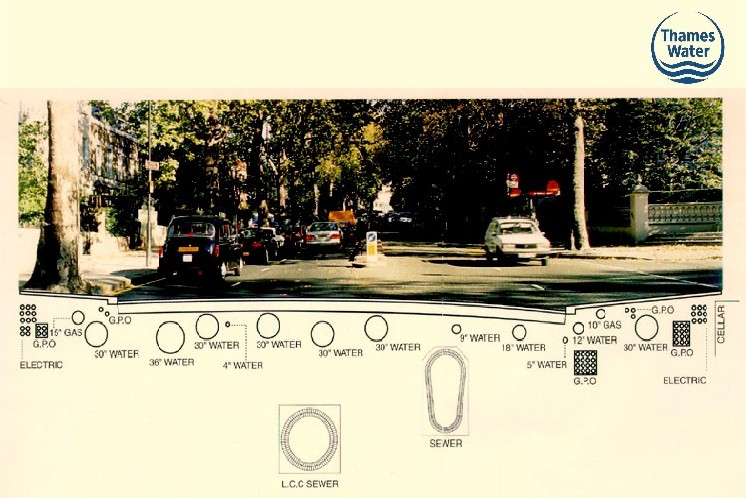 Following significant lobbying by the industry and an acknowledgement of the general research needs by the government, EPSRC chose this topic to be the subject of its first Ideas Factory (or Sand Pit). The Ideas Factory / Sand Pit was a four-day meeting at which researchers from a wide variety of subject disciplines were introduced to the problem and allowed to formulate and refine different potential solutions - the analogy being that the solutions were sand castles, which were built, knocked down and rebuilt until the best sand castle was created.

The Sand Pit identified a need for a multi-sensor location tool that could locate buried pipes and cables, as well as a need to research into techniques that would allow the resulting data to be handled, stored, mapped and made available to those who need it, and that would allow devices to be attached to newly laid pipes that could remotelyinterrogated so that they could be located in the future.
This research proposal addresses the first of these research needs. It aims to assess the feasibility of a range of potential technologies that can be combined in a single device to determine the location of buried pipes and cables. The results will be analysed in depth to see whether the buried pipes and cables can also be identified, and even whether their condition can bee assessed. Two approaches will be adopted for deploying the device: from the surface looking downwards (which would be most easily carried out, but which faces the complication that the signals will usually need to penetrate through the complex layers of different materials that make up road structures) and from the inside of an underground pipe looking outwards (i.e. mounted on a robotic sledge that is fed into a pipeline or sewer).
As part of the research into a Multi-sensor strategy, our main interest is on novel configurations for Ground Penetrating Radar. This will involve:
EM propagation simulation through many types of ground by ray-tracing/FDTD techniques to identify the qualities of the signals the GPR system will have to receive for the novel configurations.
Electronic System design, build and test
Evaluation of GPR system and deployment strategies
Under your feet may be services for Gas, Water, Telecommunications, Electricity and Sewerage - but where are they, what type of soil, is it wet or dry?
Some simulations using our ray tracing software. A typical street might have ashphalt or paving slabs on a sand/ or concrete layer. The 'Underworld' then has blue water pipes, yellow gas pipes, green telecommunication ducts, red clay sewers and dark blue electricity cables.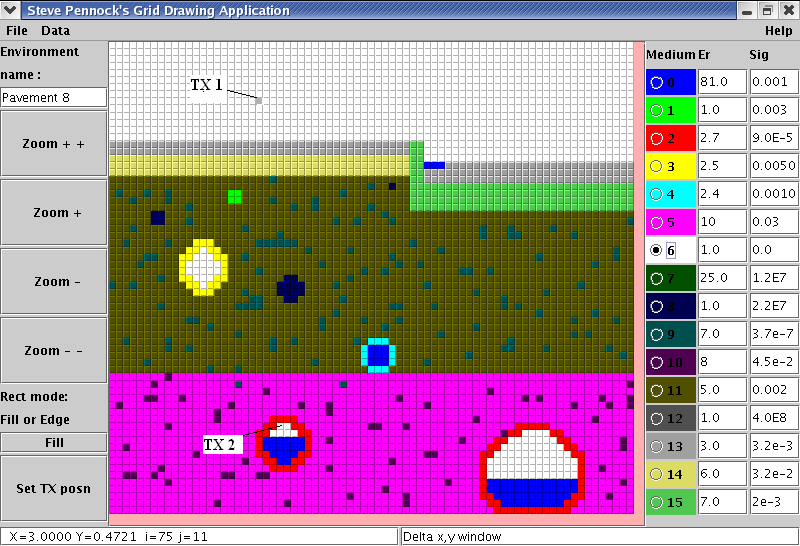 Determining the power that could be received at every point in the cross section:
| | |
| --- | --- |
| Illuminate from above | Illuminate from below |
| | |
Produces predictions of signal strengths and dynamic range needed for systems operating in these modes of operation. Helps to define the Ultra Wideband electronic sub-systems needed to realise the complete system.