<![if !vml]>
<![endif]><![if !mso]>

<![endif]>

<![if !vml]>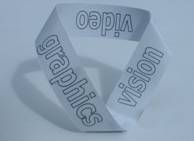 <![endif]>

<![if !mso]>

<![endif]><![if !mso & !vml]> <![endif]><![if !vml]>

<![endif]>Vision, Video and Graphics

one day workshop

Friday 14th September 2007

Warwick University

In association with BMVC 2007

The VVG'07 one day workshop is to take place immediately following the British Machine Vision Conference 2007. See

  http://www.dcs.warwick.ac.uk/bmvc2007/index.html

for details of BMVC and the workshop.

Free Registration

The Programme

The workshop programme is a mixture of regular papers and four guest speakers.

Guest Speakers:

Aaron Hertzmann, University of Toronto

Phil Torr, Oxford Brookes University

Shai Avidan, Adobe Systems.

Erik Reinhart, Bristol Univeristy

The workshop theme is the convergence of Vision, Video, and Graphics. Specific areas of interest include, but are not limited to:
Image Based Rendering and Modelling

Content Based Information Retrieval for images and video

Video conferencing

Augmented Reality and HCI

Graphic insertion into photos and video

Vision methods in image and video compression

Non-photorealistic rendering from photos and video

Video visualisation

Animation Dynamics
co-chairs:
Peter Hall (University of Bath) pmh@cs.bath.ac.uk
John Robinson (University of York)  jar11@ohm.york.ac.uk
Roland Wilson (University of Warwick, local chair) Roland.Wilson@warwick.ac.uk
The VVG Network of Excellence is sponsored by EPSRC.