Who are the Bathematicians?
A group of Mathematicians from the University of Bath, including both undergraduate and postgraduate students, who are focused on communicating how helpful and awesome mathematics can be to the public, whether that be by visiting students in schools or presenting at Science Festivals.
You can keep up to date with our events by following us on Twitter @Bathematicians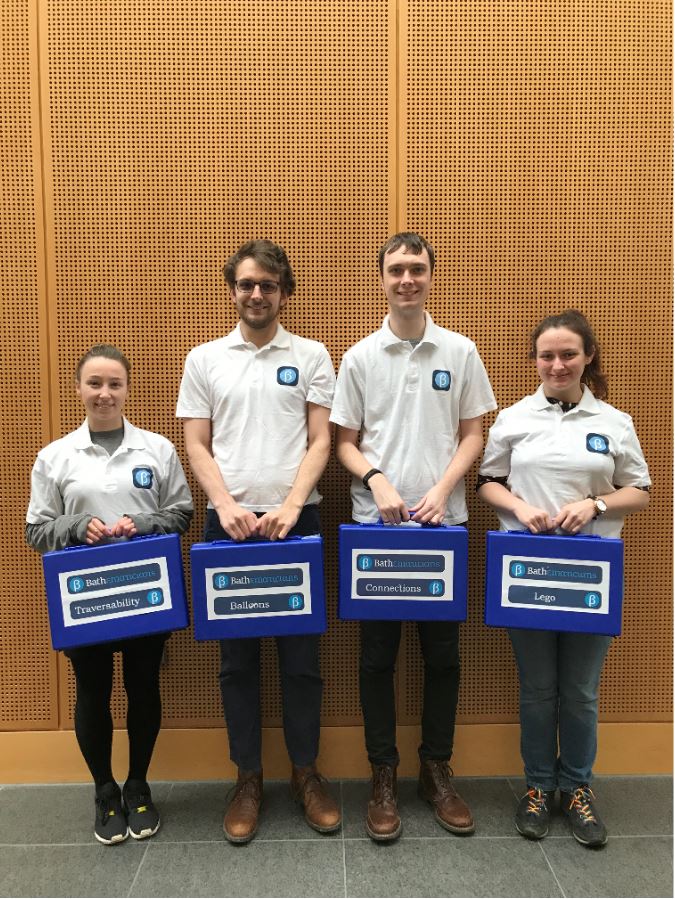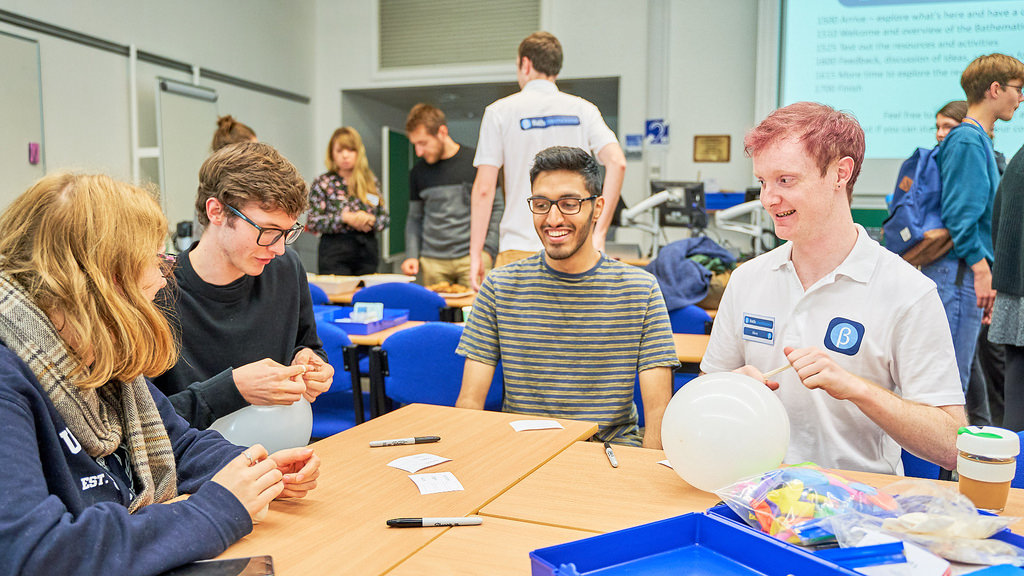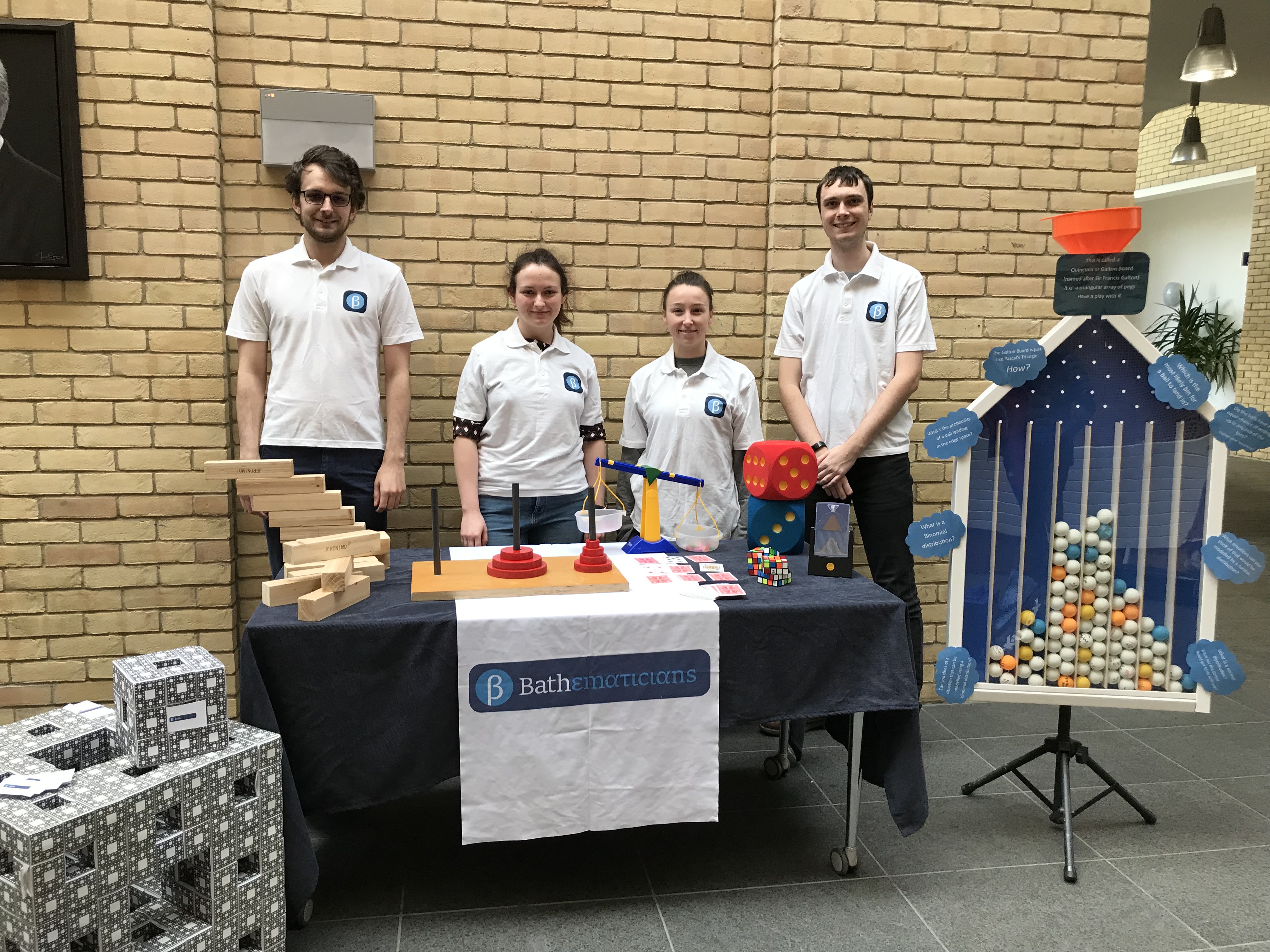 Key Staff
Key staff involved in the Bathematicians are Tamsin Smith, Ben Sparks and Jessica Ohren please do get in touch with any questions. You can email us at Bathematicians@bath.ac.uk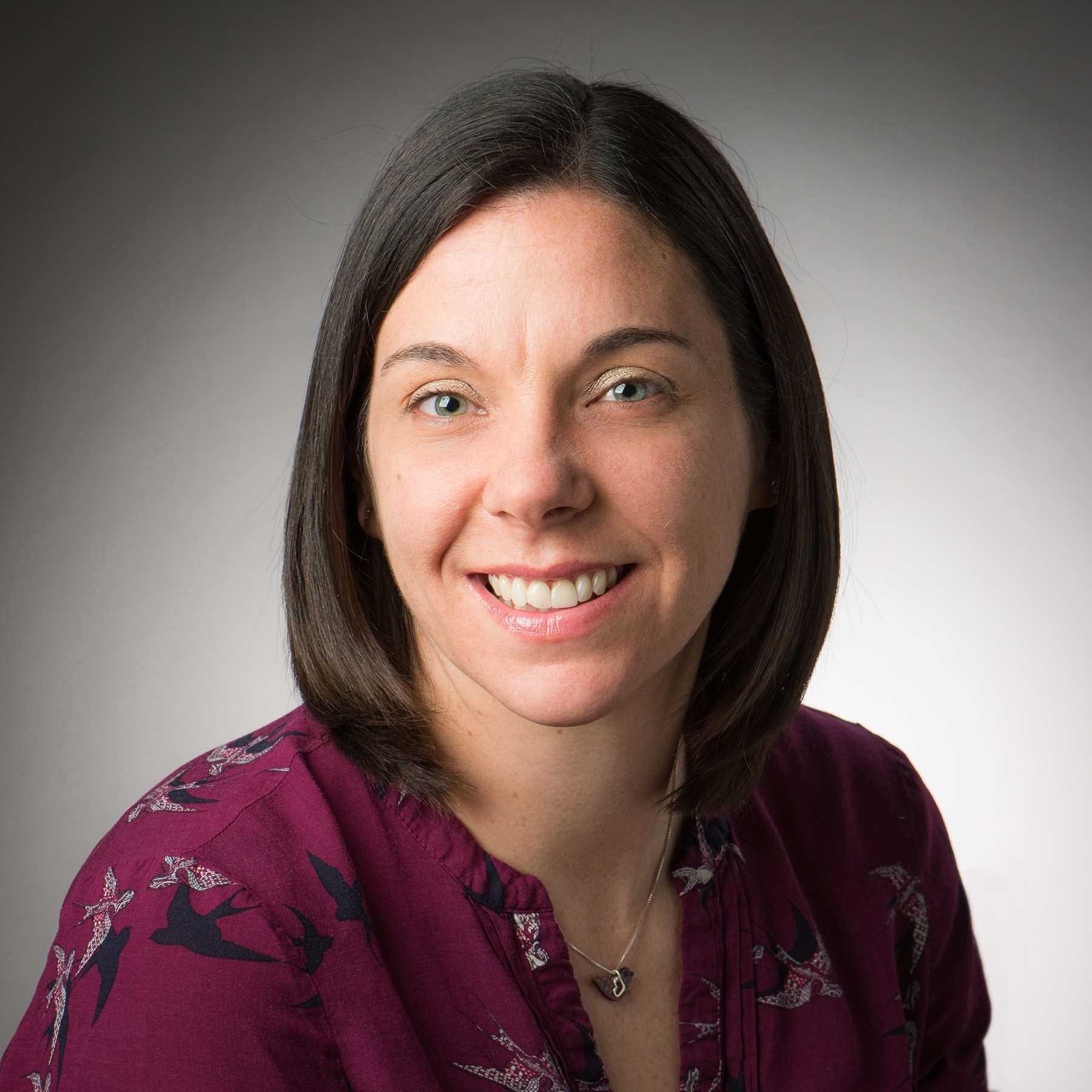 In my job as Maths Outreach Officer I help prepare the Bathematicians for interactions with the public as well as facilitating the development of new resources. It's been great fun as all the Bathematicians have great ideas and think creatively about how maths can be presented to other young people.

I use my experiences from my former life as a maths teacher, to help and guide the Bathematicians to deliver the resources at the right pace and pitch for the groups in front of them so they enjoy the experience and gain valuable skills and experience, as well as ensuring the participants of the activities have a quality experience.
I'm employed by Bath University and the AMSP (Advanced Maths Support Programme), and also work in a freelance role communicating maths to the public, around the country and occassionally further afield. Maths enrichment sessions and teacher professional development takes up most of my time, but I occassionally work on YouTube channels such as Numberphile.

The aims of the Bathematicians are similar to many aspects of my job. The only way to get better presenting to people is to try it, and then reflect back on how to improve. The Bathematicians events give students those opportunities, and Tamsin and I work with them to refine their ideas techniques.
---
What events do the Bathematicians do?
We currently have a selection of short workshops covering a range of mathematical ideas and curiosities. These workshops can be tailored to different ages groups, and can either be delivered in schools or on campus for a variety of events.

We also have a range of mathematical games and activities that we present at festivals including the Big Bang Bristol fair and Bath Taps into science.
Workshops
The workshops that are currently in the process of being developed are listed below with their desired outcomes, to give an idea of what the Bathematicians will be able to offer once fully developed. Some of these have already been tested in schools, and are ready to go. Please contact us for information.
Connections
In connections, we build up problems from a simple starting point to a complex, possibly even impossible problem. Participants can see that small changes in the initial scenario can cause large problems when attempting to solve the amended problem.

Age range: 10-15.

Keywords: Graph theory, Surfaces, Topology
Contagion
In Contagion we explore the use of simulation in mathematics by investigating the spread of a disease. Students will take part in a demonstration, which is simplification of how a computer would simulate a real life system. They will then be introduced to some simulations on a much larger scale, and be presented with some simple scenarios for them to investigate what will happen.

Age range: 11-14.

Keywords: Simulation, probability.
Euler's Balloons
In Euler's Balloons we derive the famous "Euler's formula" for 3d shapes through the use of a balloon-based magic trick. Through drawing a network on their balloons and studying it's properties, students will derive the formula F=E-V+2. Students will then learn how to apply this result to a variety of 3d objects.

Age range: 11-16.

Keywords: Algebra, Geometry
Lego Debugging
In the lego debugging session the students will discuss the purpose of algorithms and evaluate good and bad characteristics of different algorithms. They will do this by following an algorithm for building a lego structure. They will also look at 3D co-ordinates and practice using these.

In a longer session or for an older age group the students will also practice writing their own building algorithm and how to test for bugs in their algorithm.

Age range: 9-14.

Keywords: Algorithm, Debugging, Co-ordinates.
Magic Numbers
In Magic numbers, we investigate a seemingly difficult calculation and find a shortcut method to use as part of a trick. The trick is based on some simple maths that students can easily understand and then time permitting can try out on other people in the group.

Age range: 10-15.

Keywords: Factors, Cubes, Conjecture
Nim
In Nim, participants play each other at a simple game to try and outwit each other. The strategies involved are based on simple number patterns but require participant to think on their feet to get the best outcome. It introduces participants to generalising a problem and working out how they know they can win and given them a game to play with friends and family.

Age range: 10-15.

Keywords: Strategy, Generalising, Proof, Factors, Multiples
Traversability
In Traversability, we investigate mathematically what conditions allow us to 'traverse' a network, meaning to draw over every edge in a network without either lifting our pen off the paper or back-tracking. Students will use a trial-and-error approach to decide whether each of a set of example networks can be traversed. Simple numerical properties of the networks will be tabulated and the students will try and spot a pattern in the tables to form a conjecture about what restrictions on these properties are necessary in order for a network to be traversable.

Time permitting, there are two real-world questions which are equivalent to determining whether a network is traversable (including the famous 'Seven Bridges of Königsberg' problem from which the formal study of networks began). Students will need to embrace abstraction to re-cast the questions in terms of networks, and will then apply the conjecture to easily determine the solutions, without having to adopt a trial-and-error approach.

Age Range: 10-15

Keywords: networks, pattern-spotting, conjecture, abstraction
Presentation Stalls
Younger Participants Stall: The purpose of the stall is to Show the participants some interesting maths that they might not know and some extensions or a different twist to the maths that they do at school. We also try to set up scenarios to showcase how simple maths can have application to the real world. Suitable for KS2 and KS3.

Maths of movement Using a ramp and some tubs of rice participants are asked to explore the conditions of movement and speed.
Maths in computing Using some simple cards to mimic a message a computer might send participants are tricked into thinking the presenters can read their minds. Really the trick is about using the simplest of maths.
Maths of chance Participants are asked to consider the risks and rewards of playing a simple game and apply what they discover to more complex chance games.
Maths in science Using cards and a simple model this activity shows that's we can use maths in order to predict how things (like cells or people) move.
Math in industry A simple problem, with a simple solution. But many will take the long way around in this activity. This activity encourages participants to find the optimal solution to the problem.
Older Participants Stall: The purpose of the stall is to Show the participants some interesting maths that they might know and some extension to that maths with potential links to the university curriculum. Suitable for KS4 and KS5.

Infinite Bridge How can it be possible to build a bridge that over hangs an edge to an infinite length? Yes, it's possible and this activity will show you the maths behind why.
Utilities problem Seemly simple, the utilities problem will make you think about surfaces in a different light.
Galton board Do the balls in this board fall where you thought they would? Shown alongside a simulation where you can throw hundreds and thousands of balls down the chute showing what happens if you play many times may surprise you.
Mega Menger A hands on activity exploring the beauty of fractals.
The Magic calculator Trick your friends with some binary magic.
---
Get involved
Are you a current maths student?
Are you interested in telling the public how great maths is?
Do you want to inspire the next generation of mathematicians?
If you answer yes to any or all of these questions, and you are a student or staff member at the University of Bath, you should consider becoming a Bathematician.

How can you get involved?
Email Tamsin Smith to find out more, and get added to mailing list.
Once this has been done...
You can sign up to events using this google form.
What would I need to do as a Bathematician?
Get involved in whatever way you can. This could be coming up with a new workshop or new games, delivering the current material or coming along to help at the events.
Are you interested in the Bathematicians coming to present to your class? Either at your school or the University? Then please contact Tamsin Smith by emailing the Bathematicians@bath.ac.uk
---
Future events
TASTER DAYS
Year 10 Q&A - 2nd May 2019
Encourage love of Maths Q&A - 22nd May 2019
STALL EVENTS
APPLICANT VISIT DAYS - These are all on campus in 4W Atrium and for year 13 applicants

Saturday 13th April 2019 10:00 - 11:00
Wednesday 17th April 2019 12:00 - 13:00

OTHER STALL EVENTS
WORKSHOP EVENTS
OTHER EVENTS
RI Masterclass Celebration Events (to be ran as a lecture event for year 8 students) - on campus - June 2019 -10:00 - 16:00
Take Maths to the limit - 3rd July 2019
---
Past events
Bath Taps into Science School Fair - at The Forum - Saturday 16th March 2019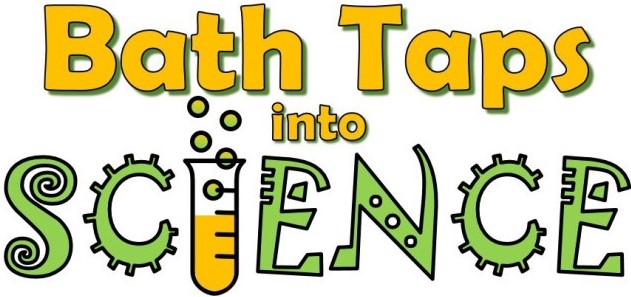 16 Bathematicians presented throughout the day at the public event.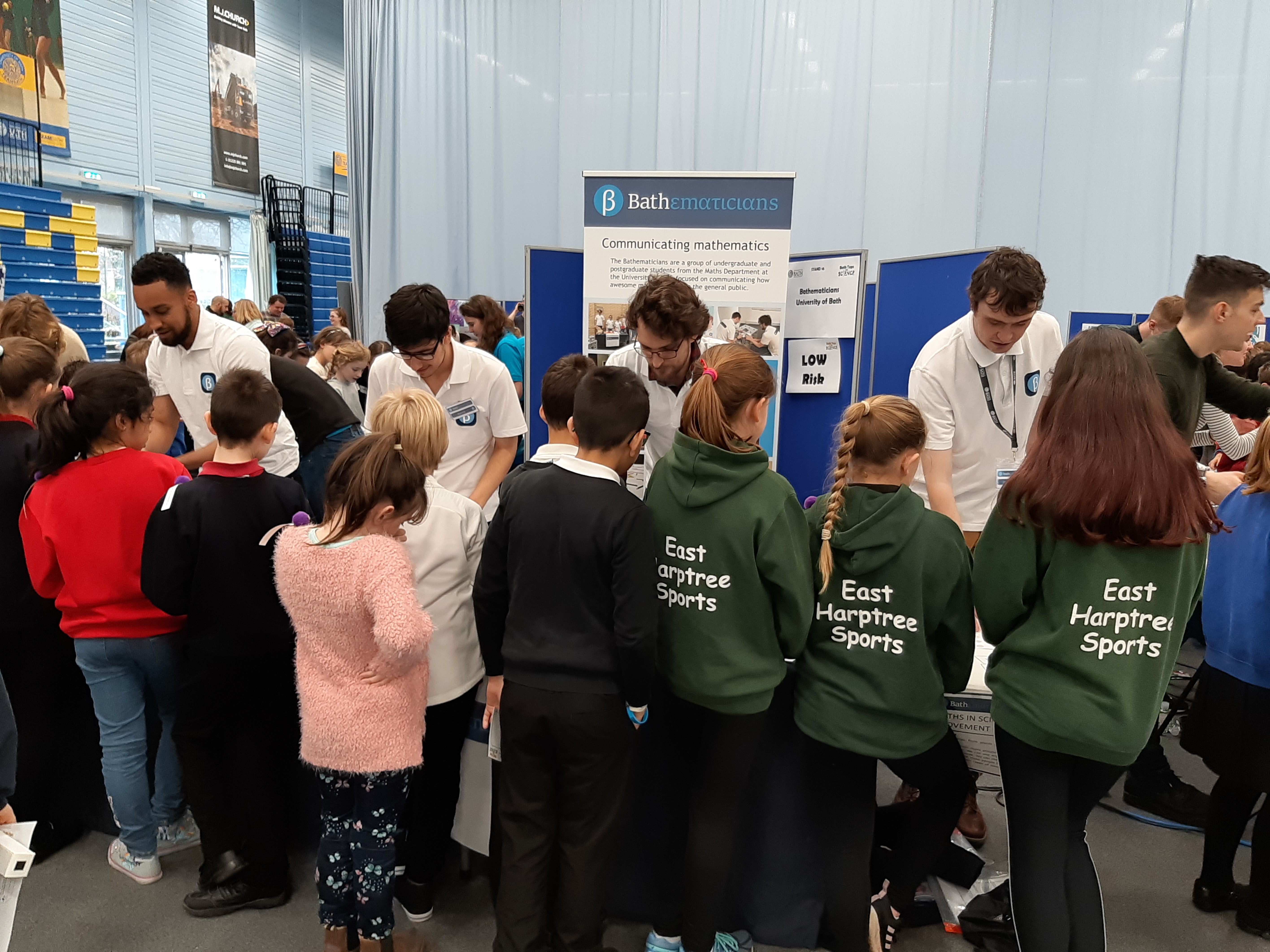 Bath Taps into Science School Fair - on Campus - Friday 15th March 2019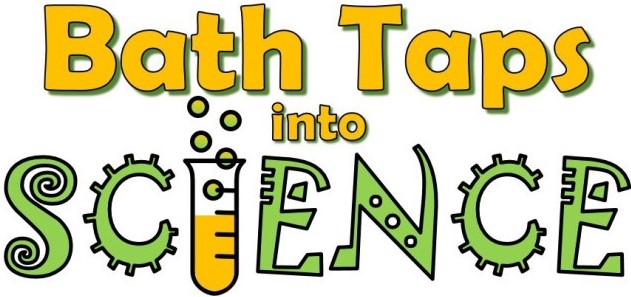 11 Bathematicians presented throughout the day at the school fair fielding off excited year 6 pupils never ending questions about the maths presented.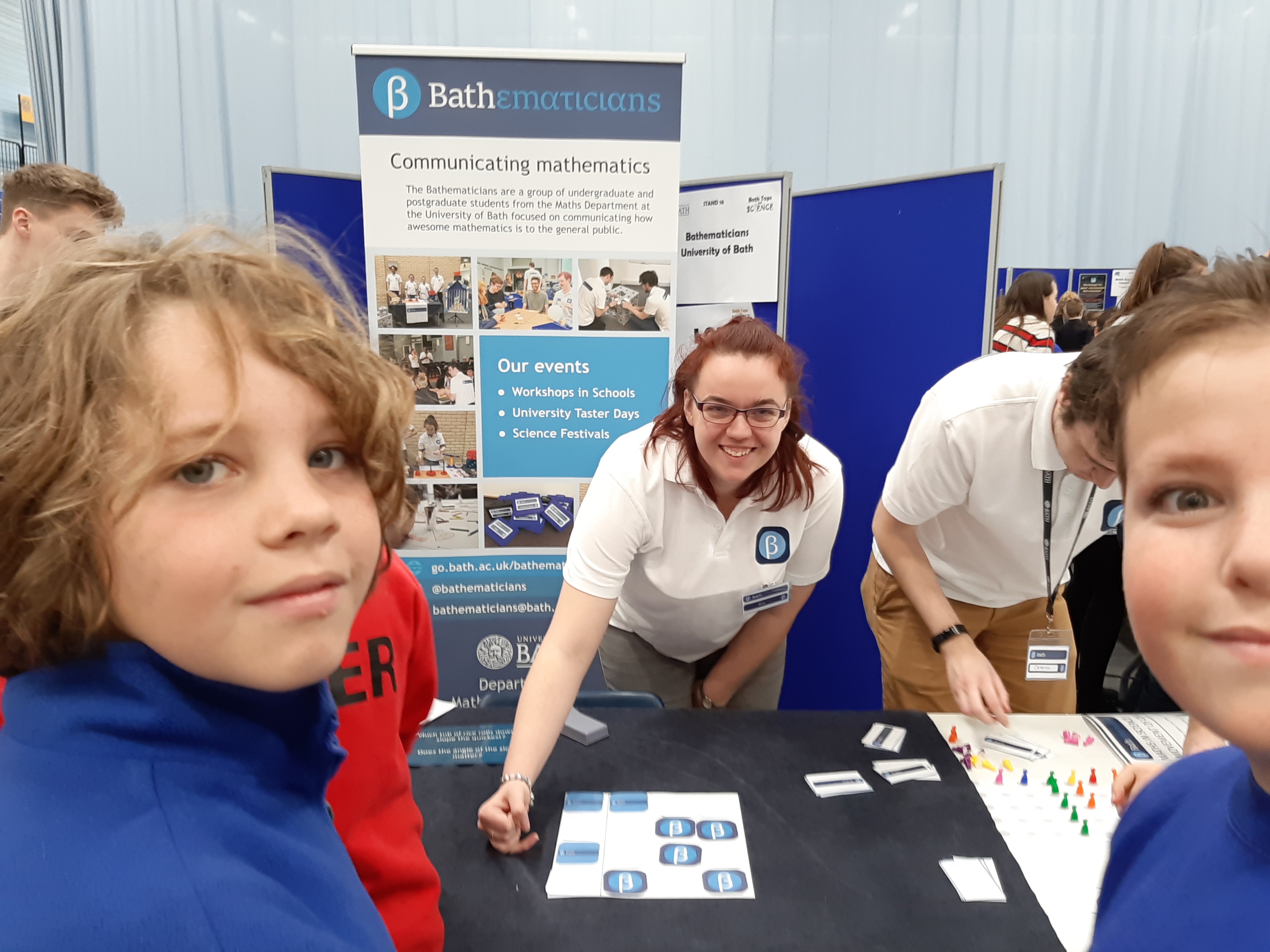 Newbridge Primary School STEM Fair - Saturday 9th February 2019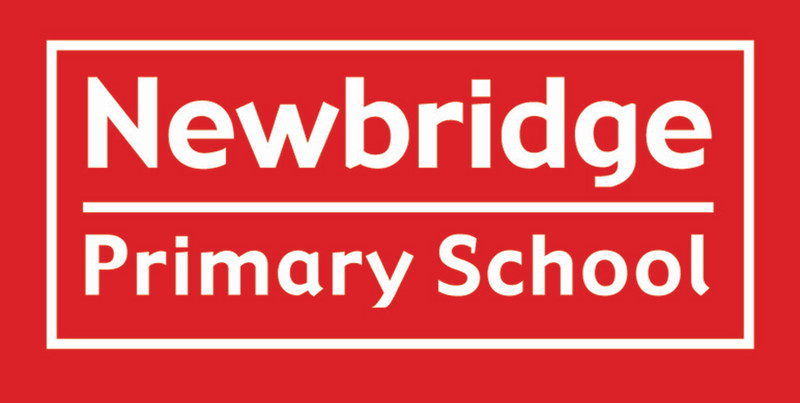 16 Bathematicians presented our primary school stall at the p. The audience ranged from babies to grandparents! There were hundreds of people in school hall.
Year 5 workshops Newbridge Primary - Friday 8th February 2019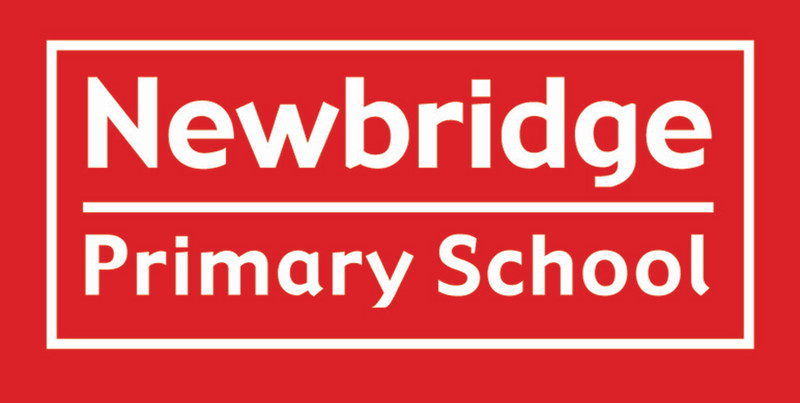 4 Bathematicians presented Balloons and Traversability in two consecutive hour taster workshops for each of the year 5 classes. 61 pupils participated.
Year 6 workshops Newbridge Primary - Thursday 7th February 2019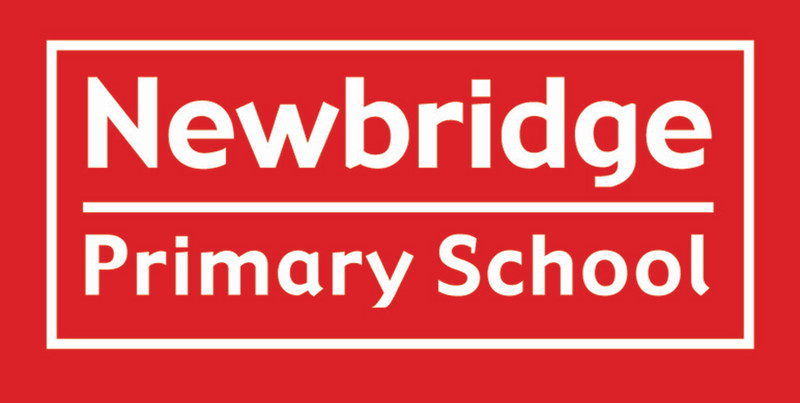 4 Bathematicians presented contagion and Traversability in two consecutive hour taster workshops for each of the year 6 classes. 62 pupils participated.
Applicant Visit Days - Various Dates

We have a stall of interesting maths which is presented by approximately 5 Bathematicians at all the applicant visit days throughout the year. The stall in an opportunity for existing Bathematicians to interact with applicants who might be a Bathematicians in the future.
Taster Day - Girls in Maths Day - 30th January 2019

We had 2 female Bathematicians who participated in a panel of people who identified as female to talk to an audience of young girls who could ask anything they wanted! Questions about their education, what inspired them and what their patronus would be were amongst the questions asked.
Taster Day - Year 12 Maths at University Q&A - 10th December 2018

We had a panel of 5 Bathematicians who talked to potential university students about their experiences. Questions about university life, the maths course at Bath and how much they lifted in the gym were amongst the questions asked.
Oldfield School- Schools Practice 2 on 5th December 2018

9 Bathematicians presented the following carousel of briefcase workshops to 32 year 7 students over 2 hours. Connections, Magic Number, Contagion, Traversability and Balloons.
Ralph Allen School - Schools Practice 1 on 29th November 2018

11 Bathematicians presented a selection of the following briefcase workshops to 60+ year 7 students. Connections, Magic Number, Lego Contagion, Travers ability and Balloons.
Mirror Pillar: 30th October - 1st November 2018.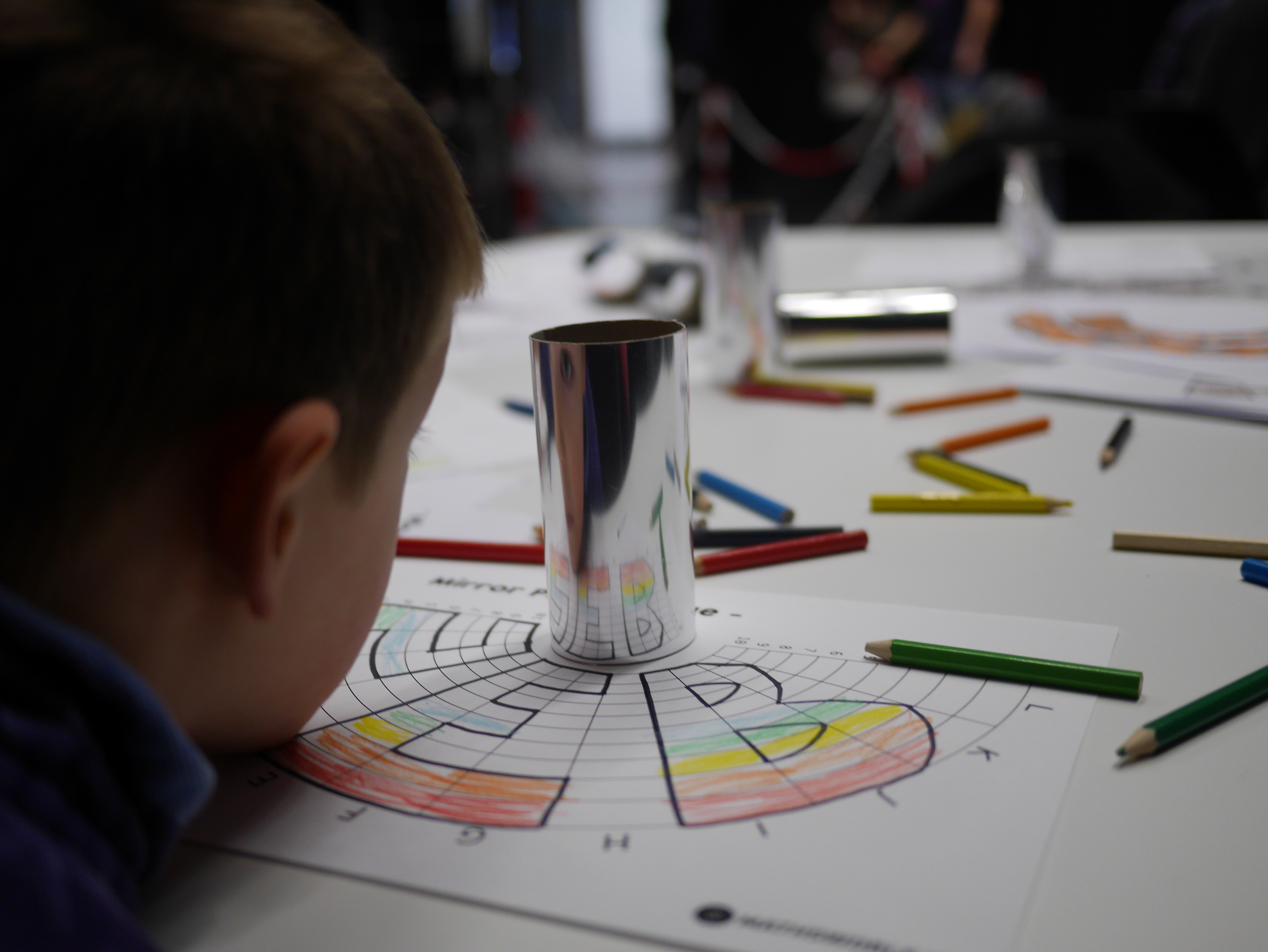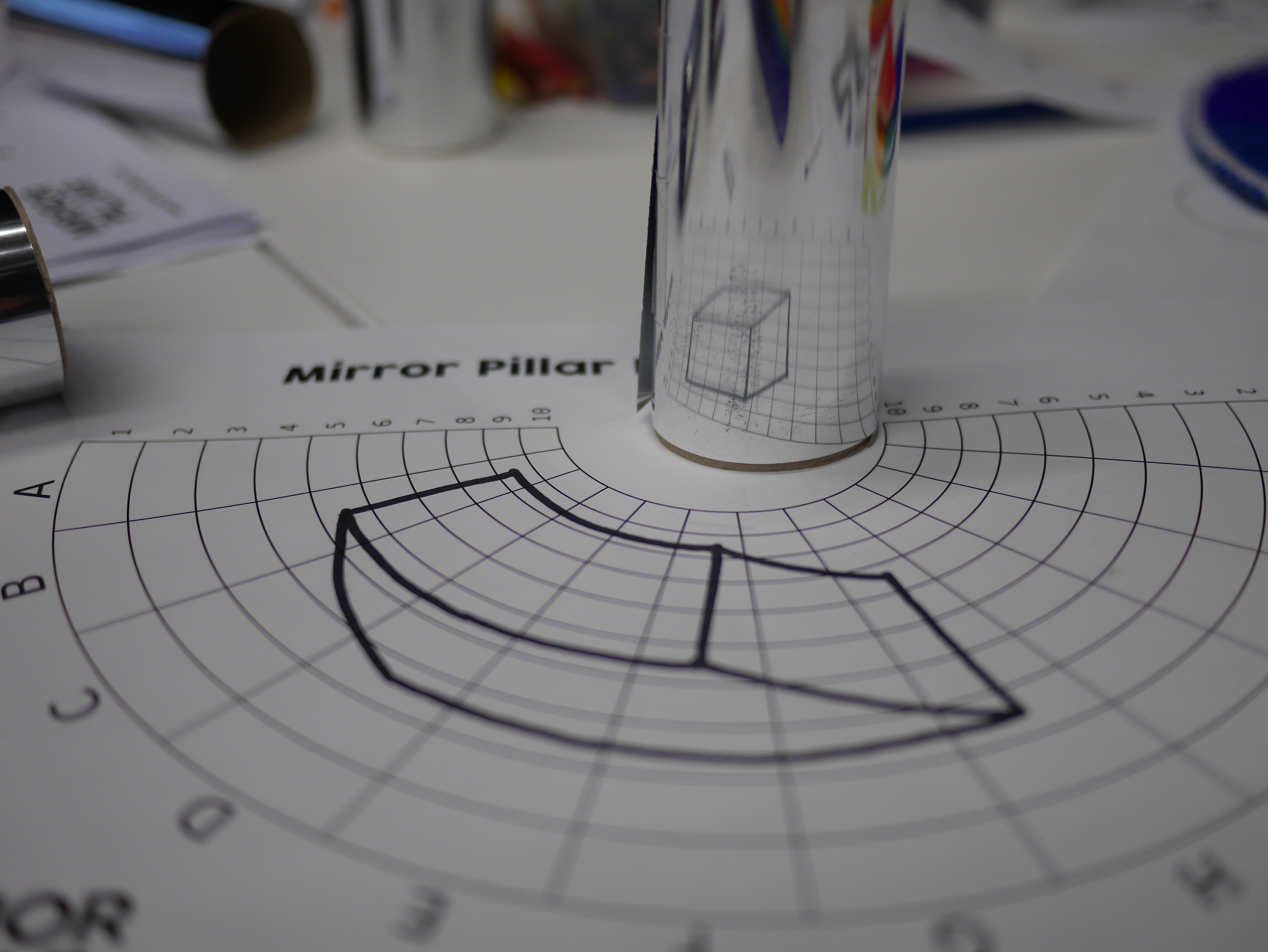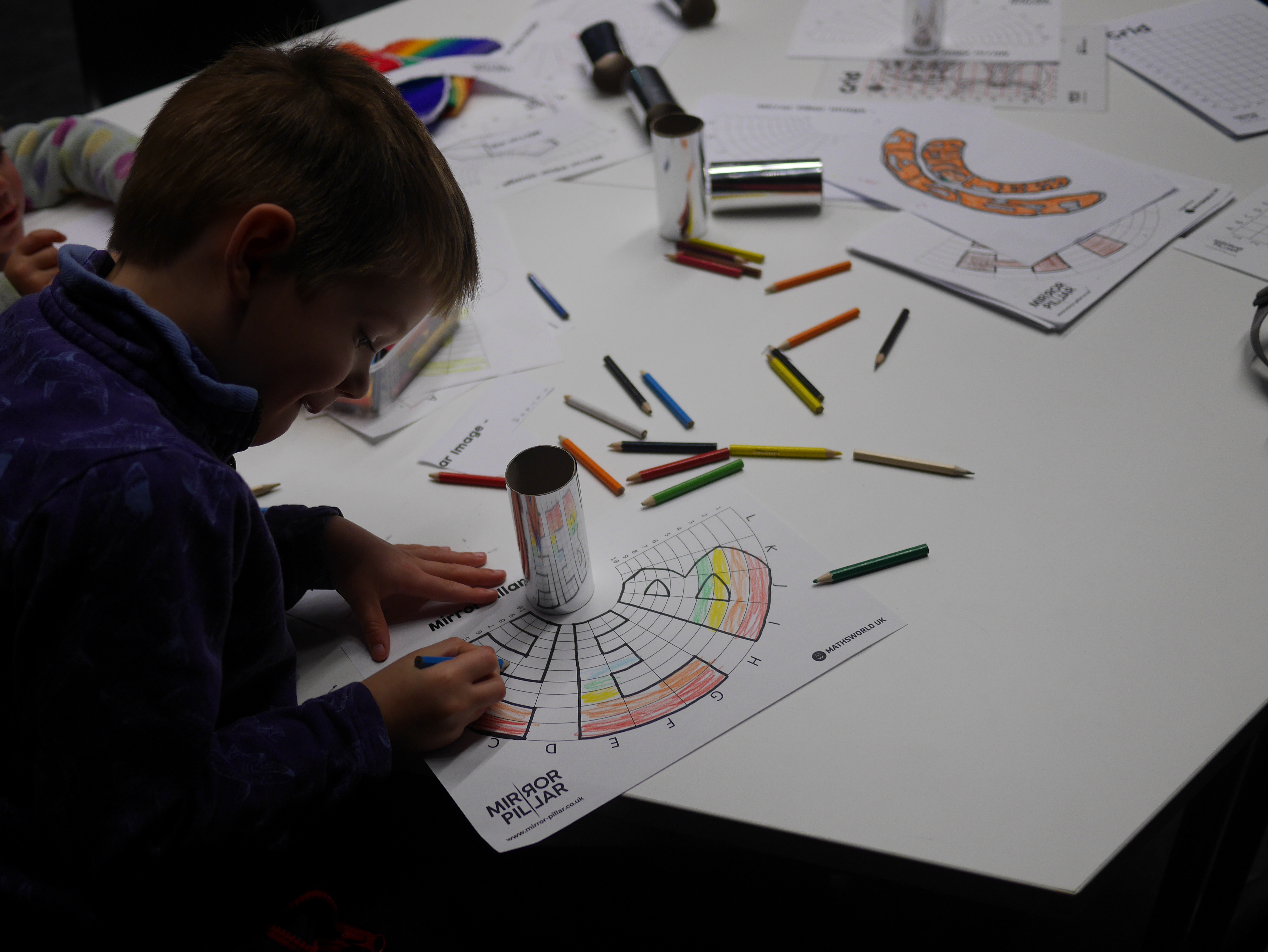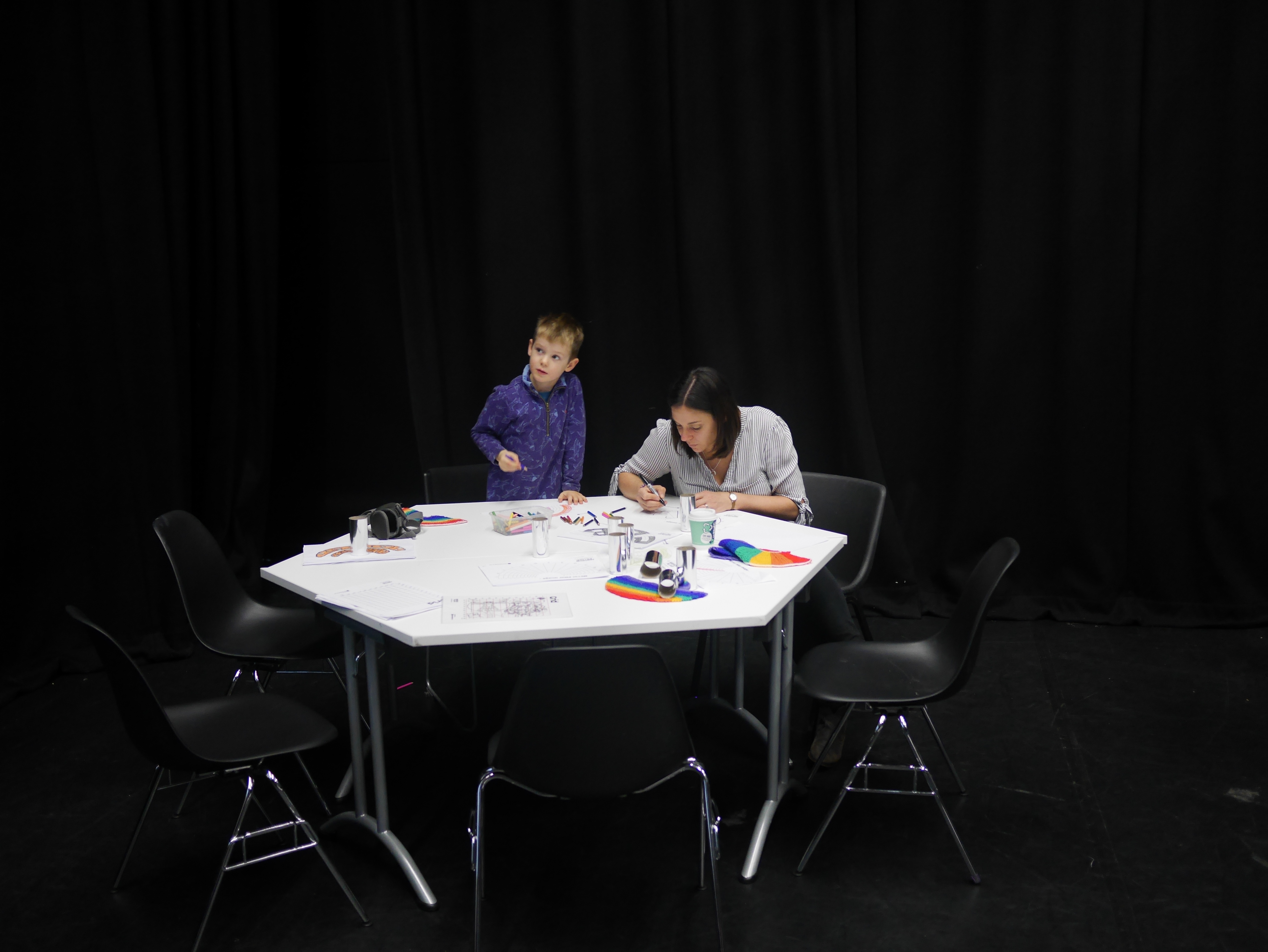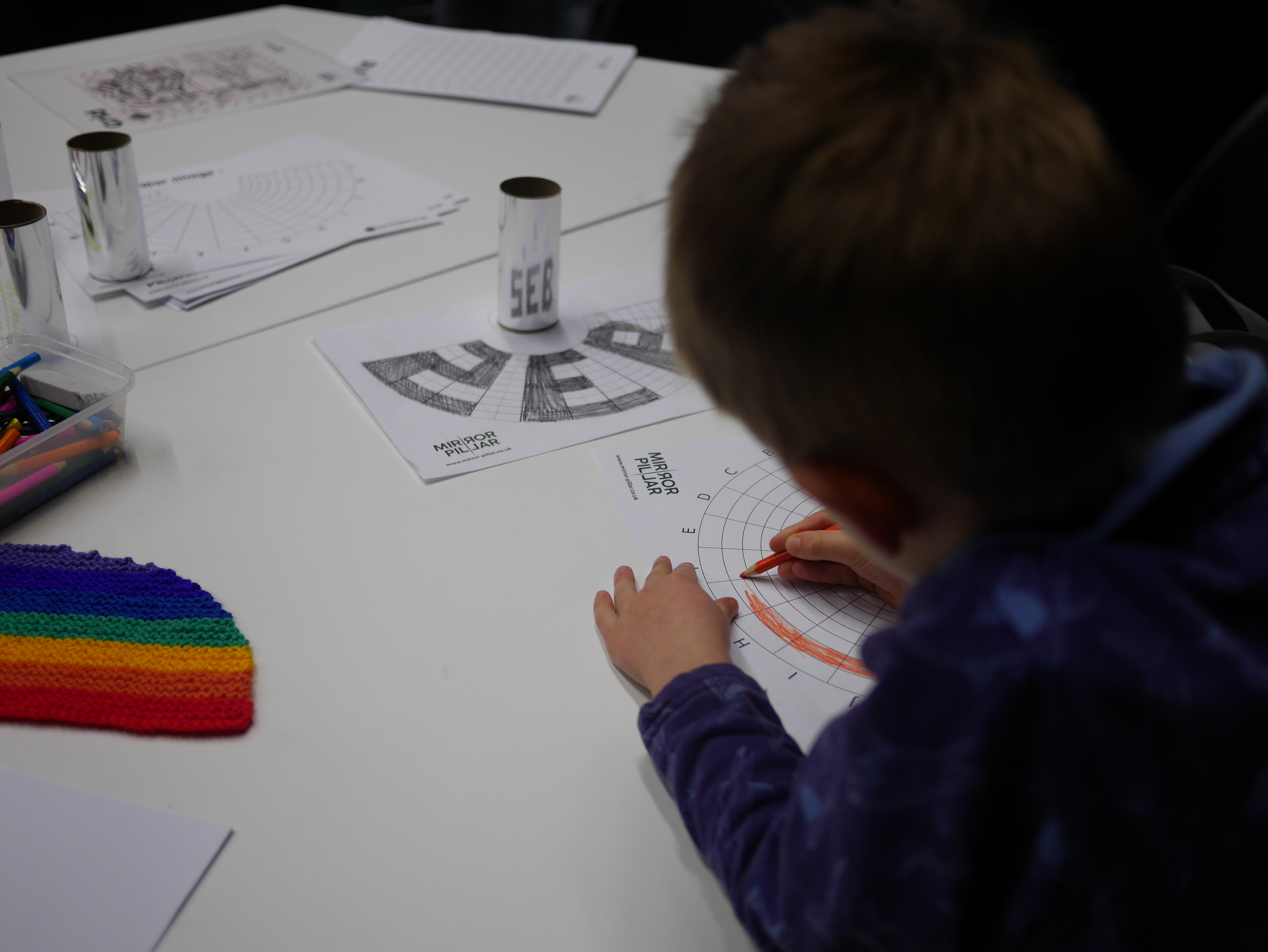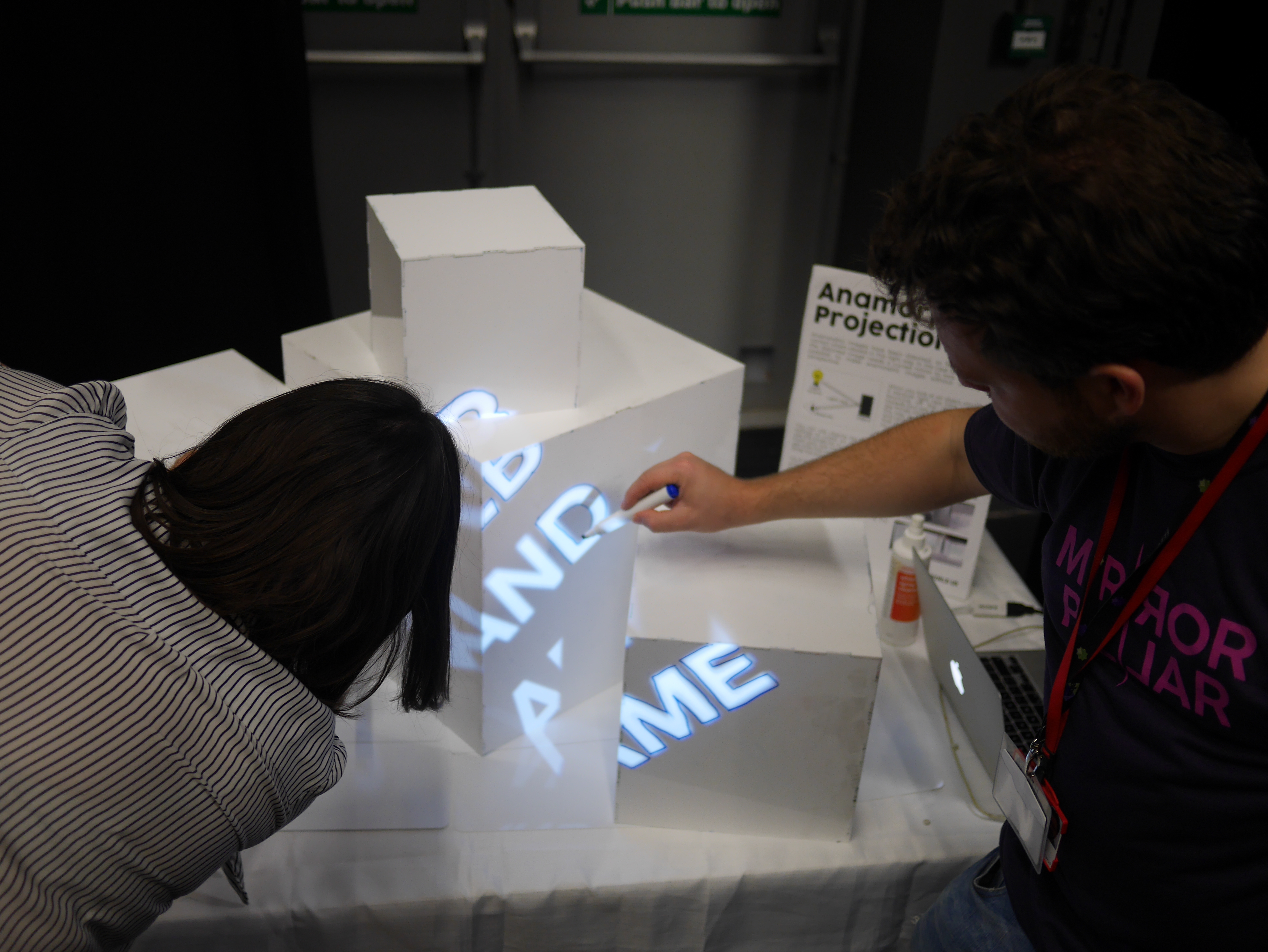 Launch Events on 23rd and 24th October 2018.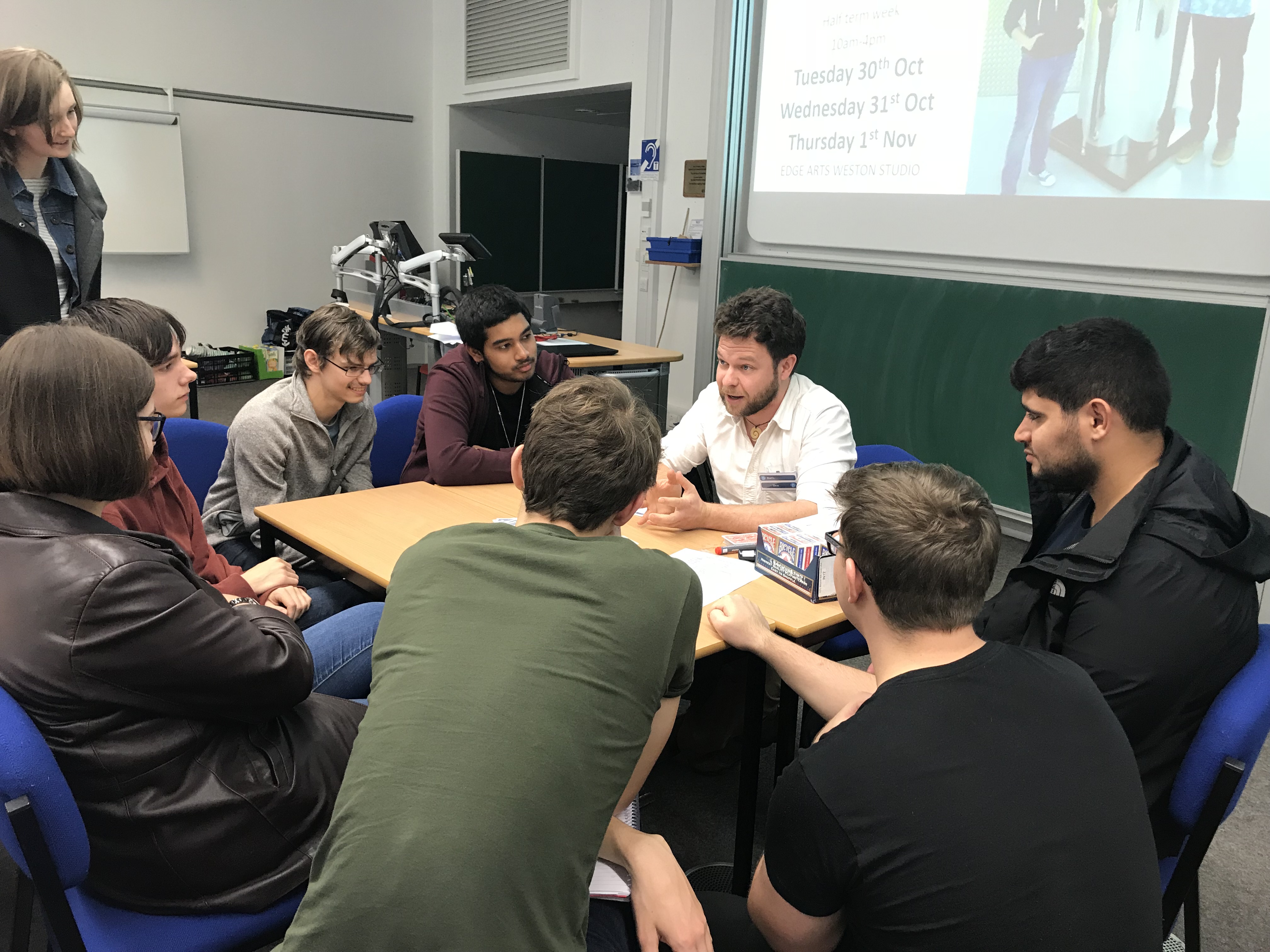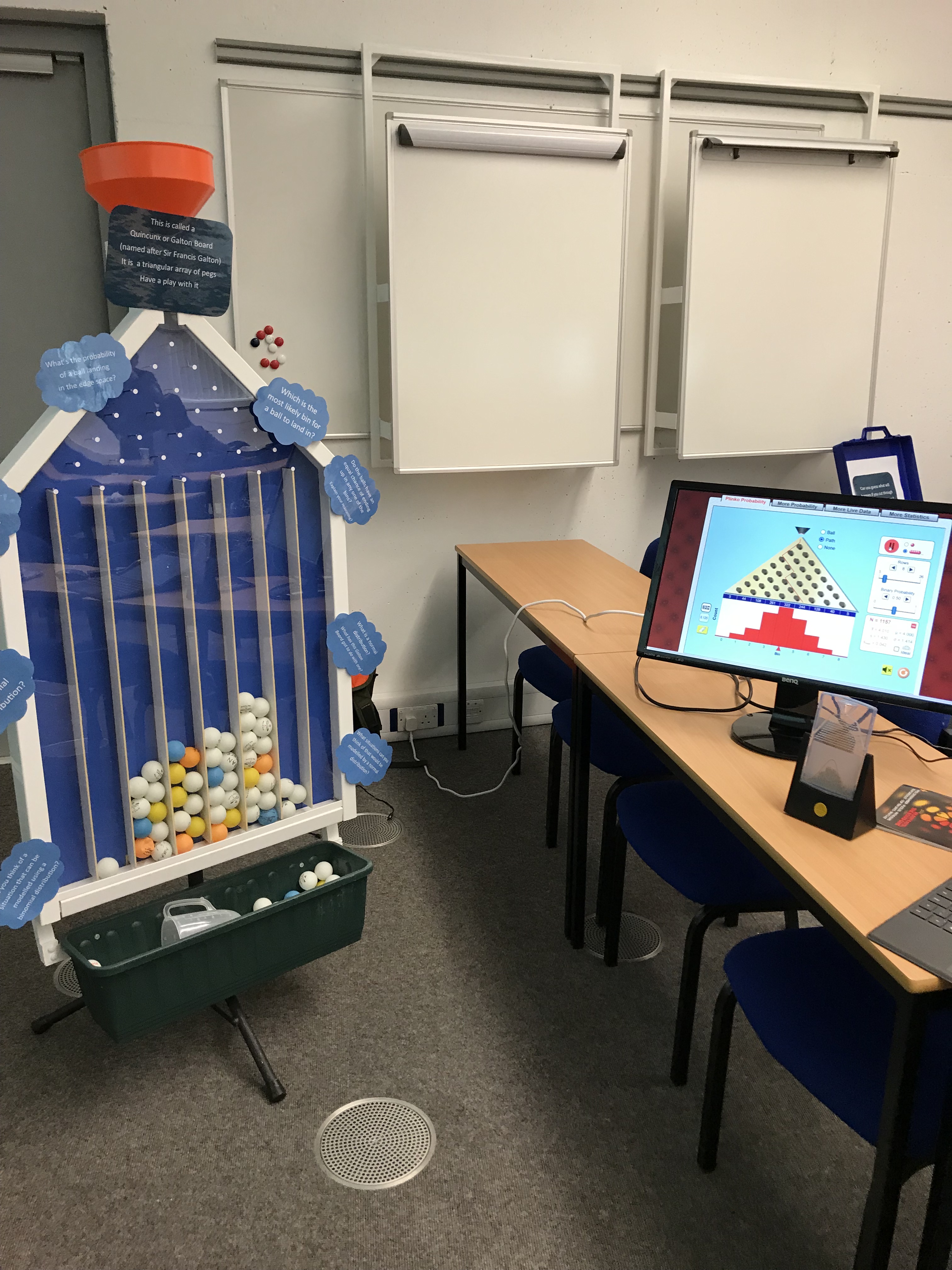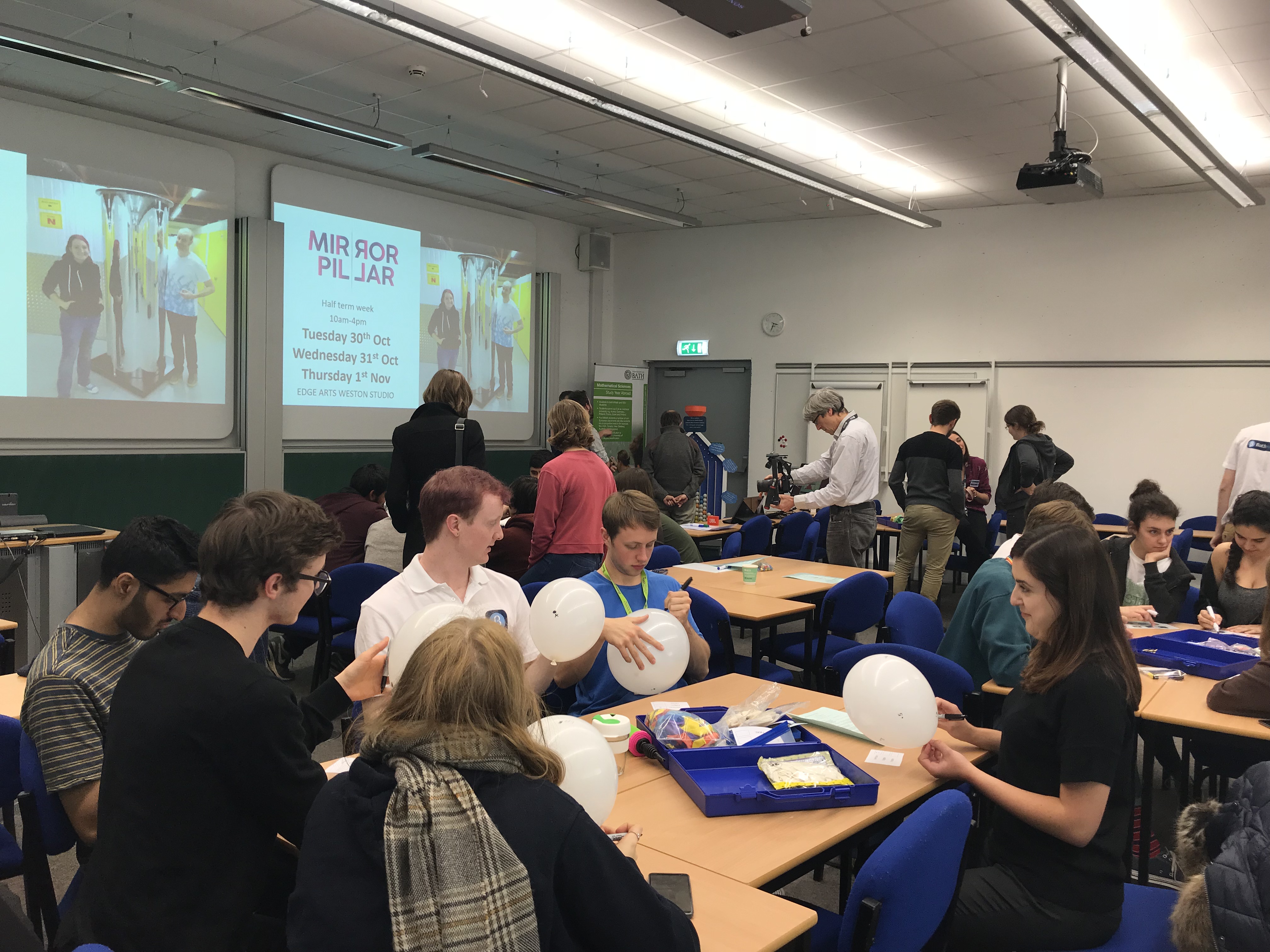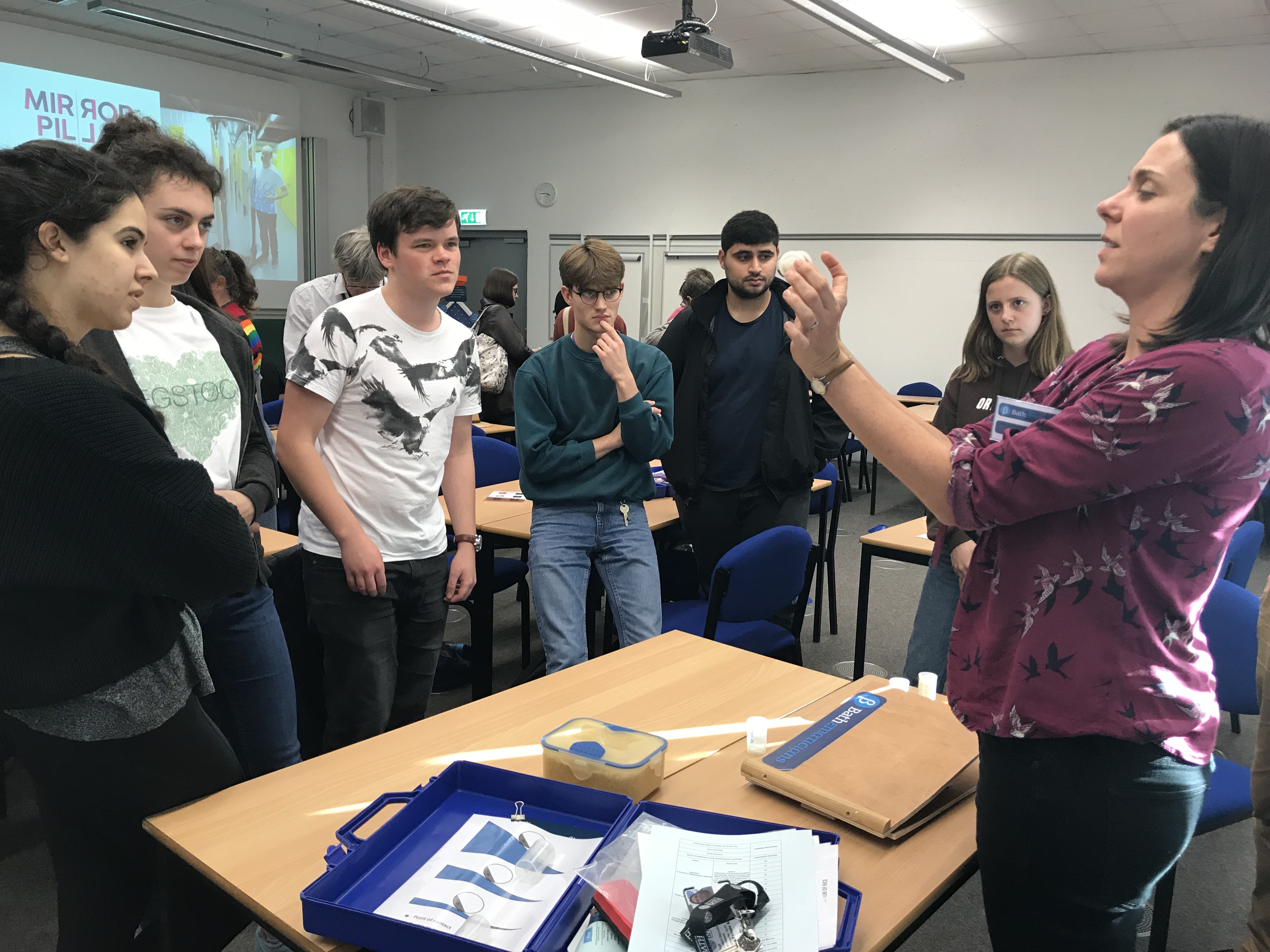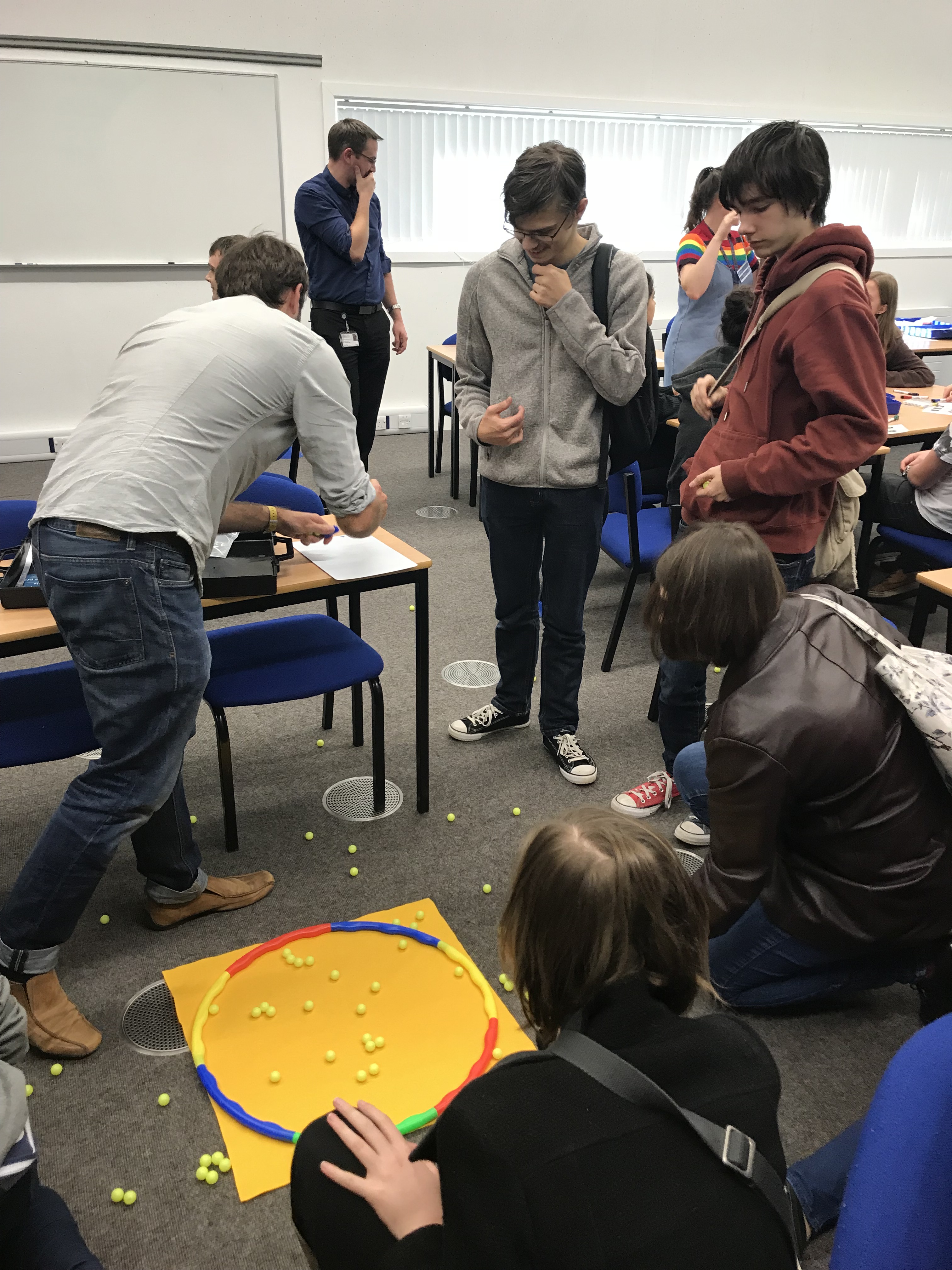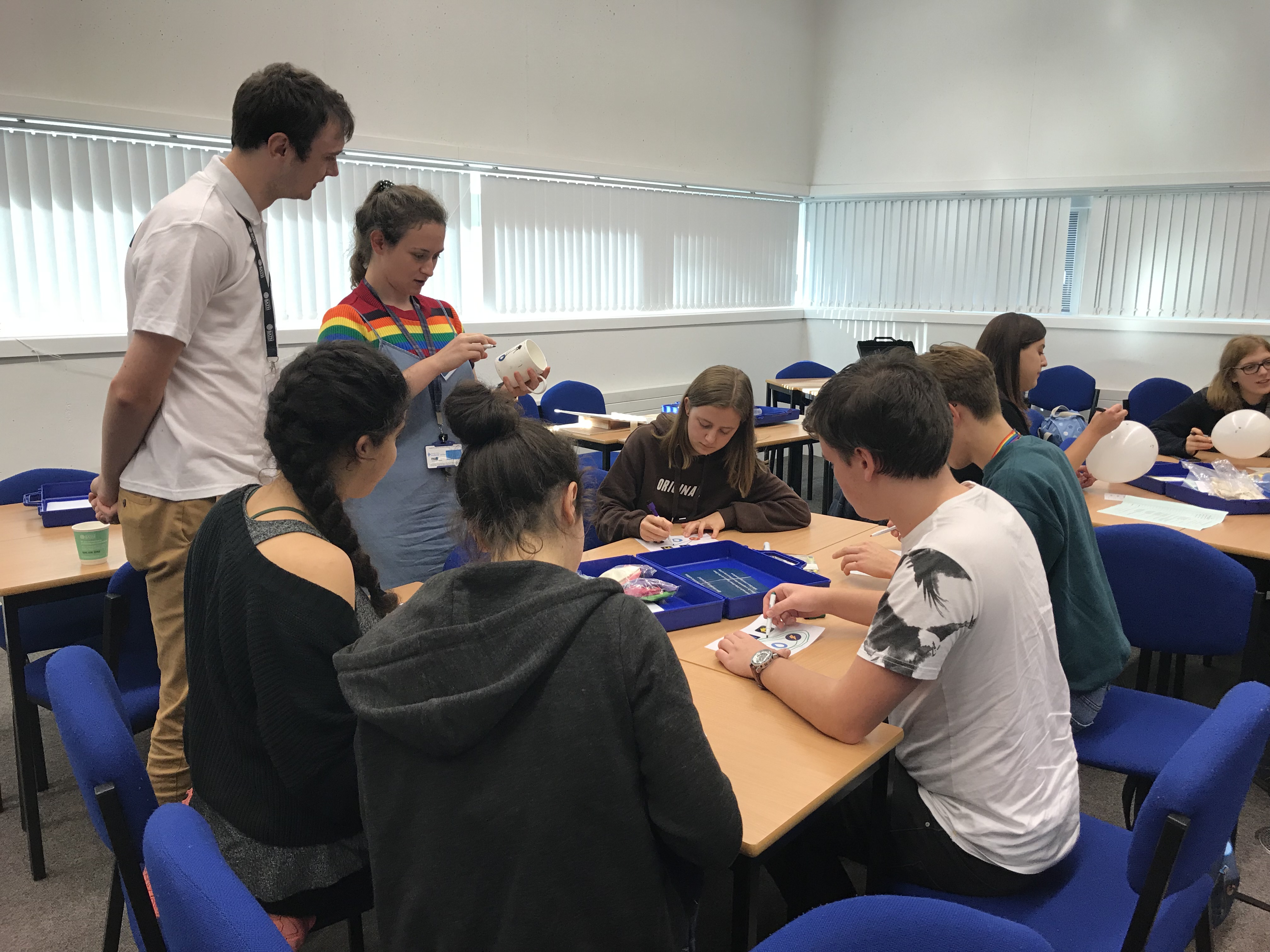 Trial Workshop on 17th October 2018.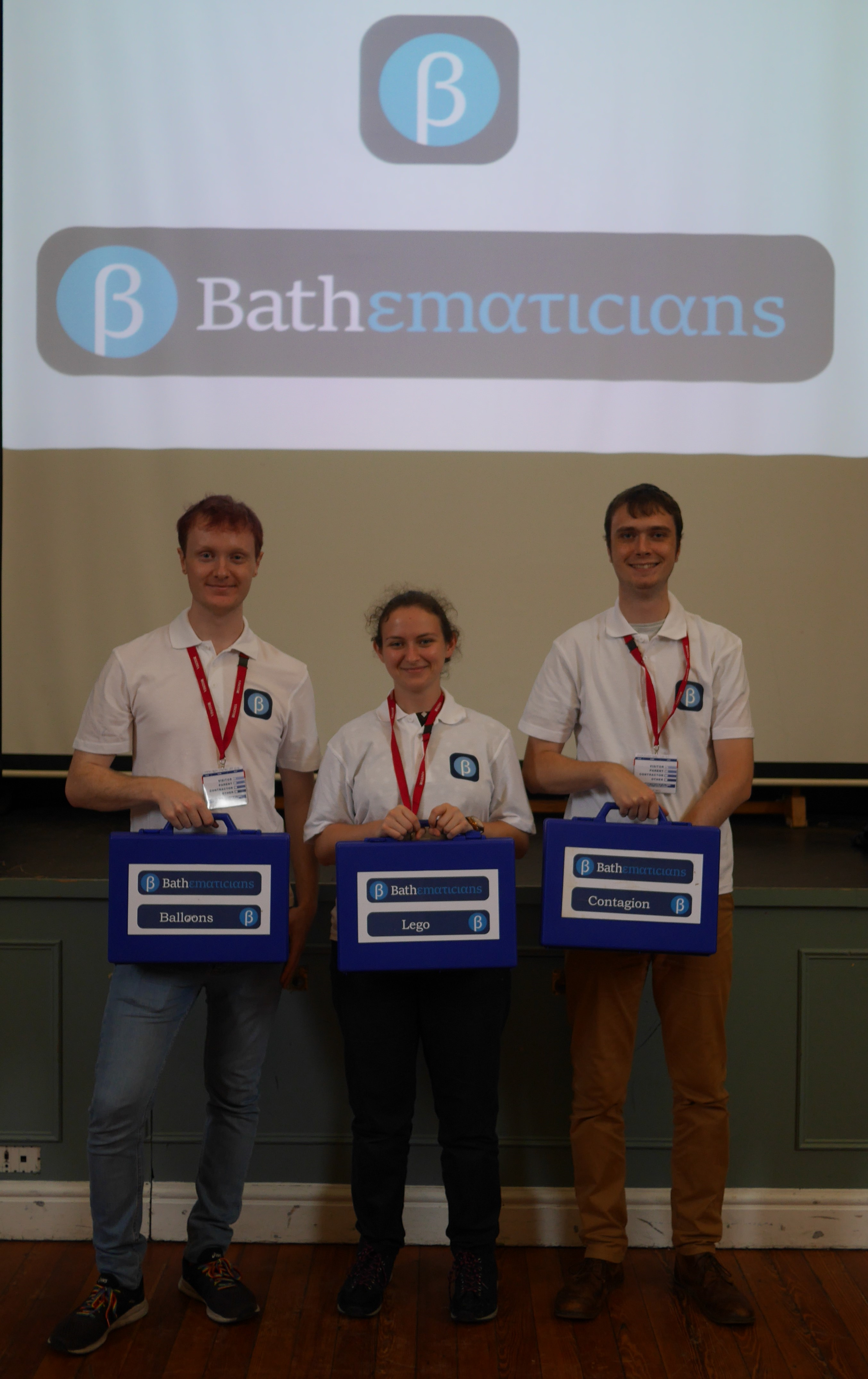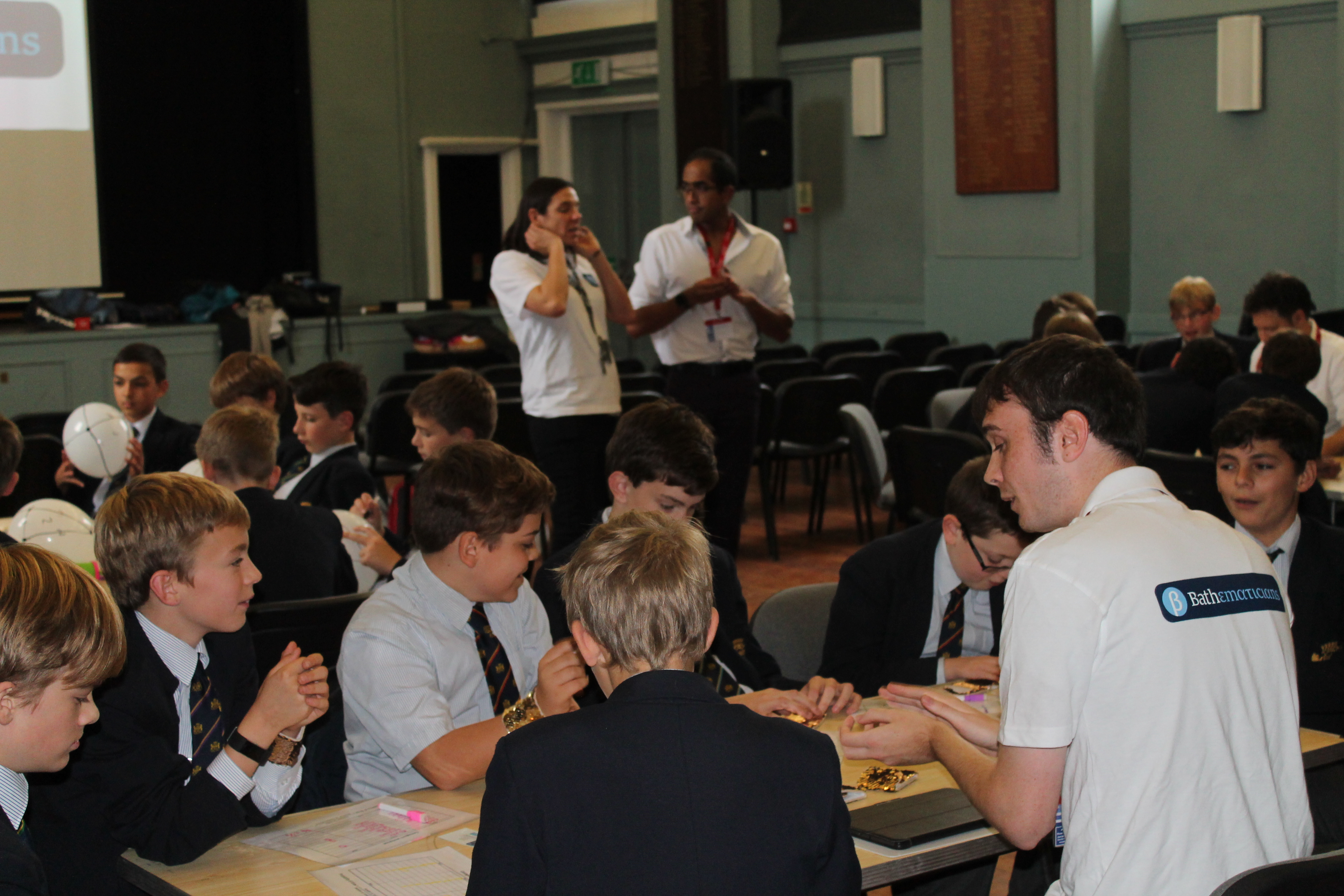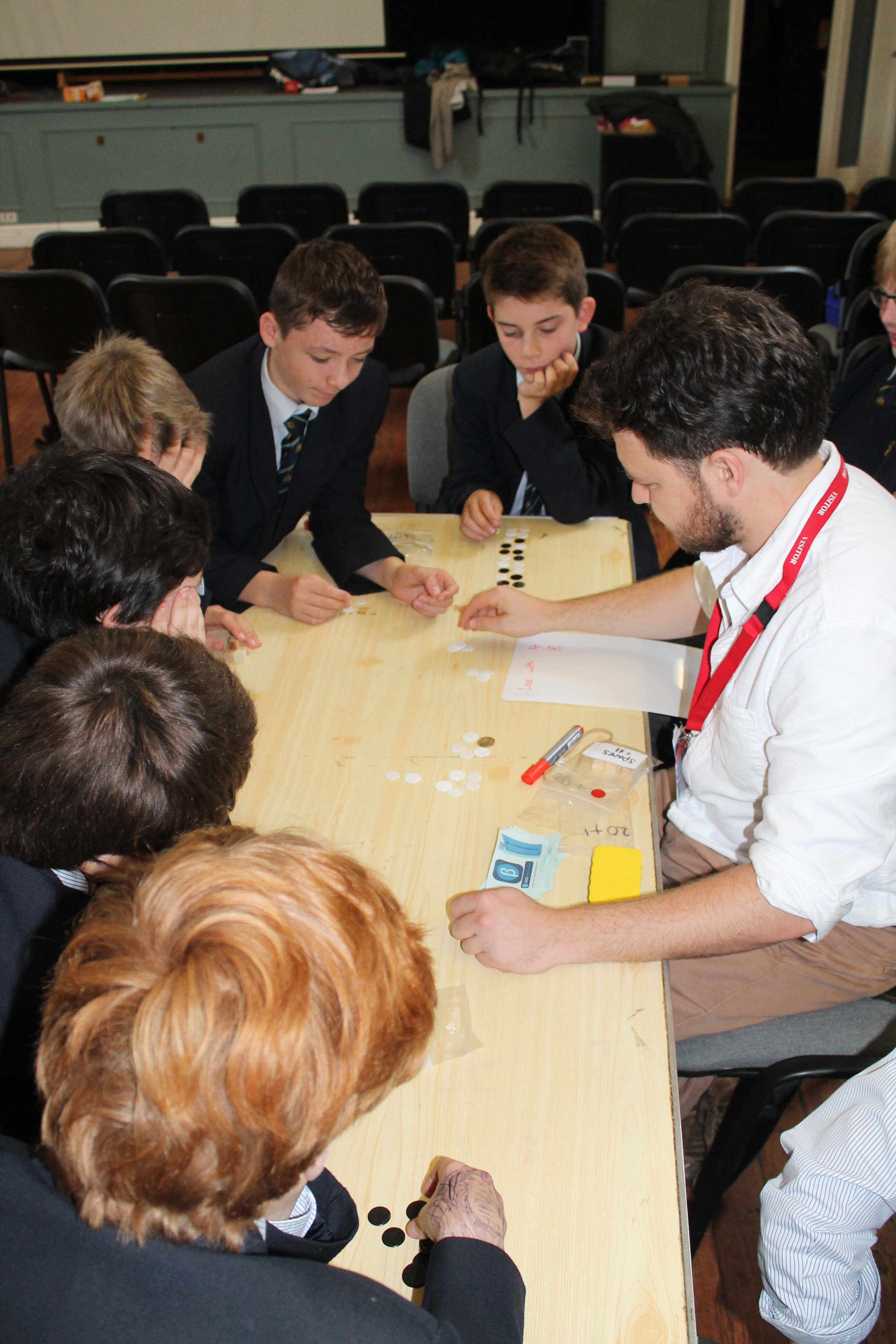 Mathletes

We were formally known as The Mathletes, where we attended events such as The Big Bang Fair, Bath Taps into Science, Bath Anniversary Festival, Pi Day and Royal Institute Masterclasses. We will still be attending these events but as the Bathematicians.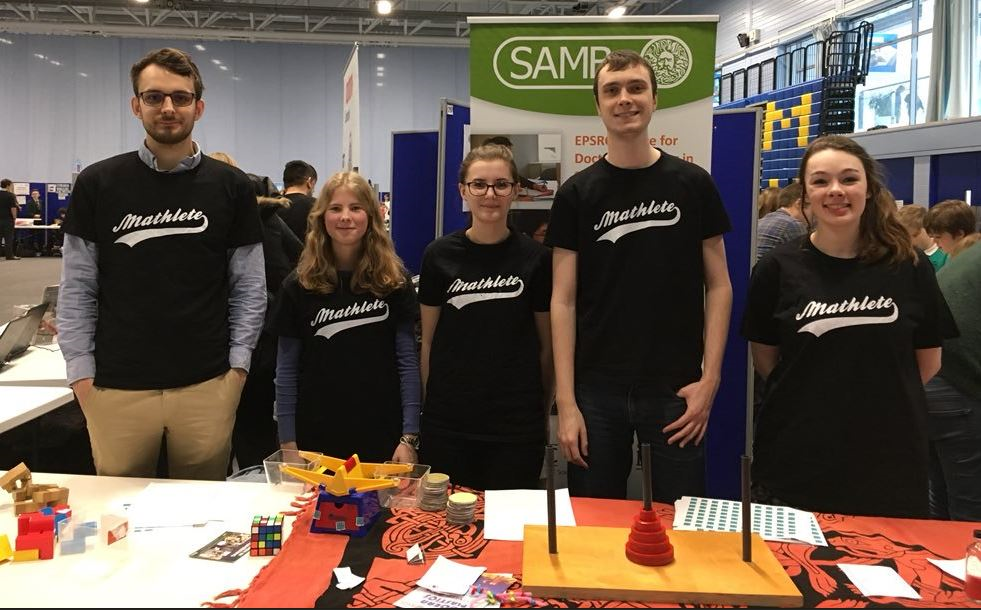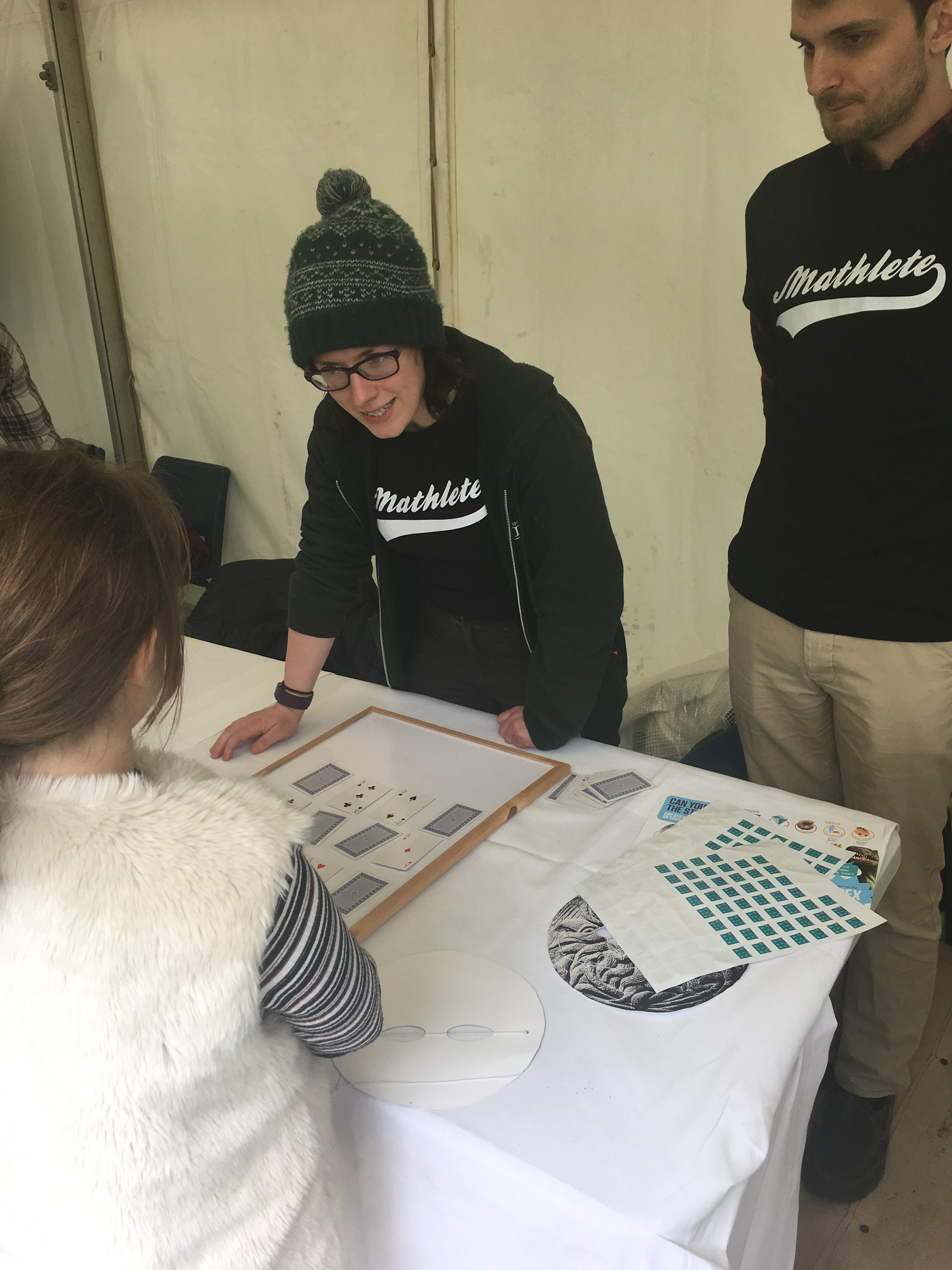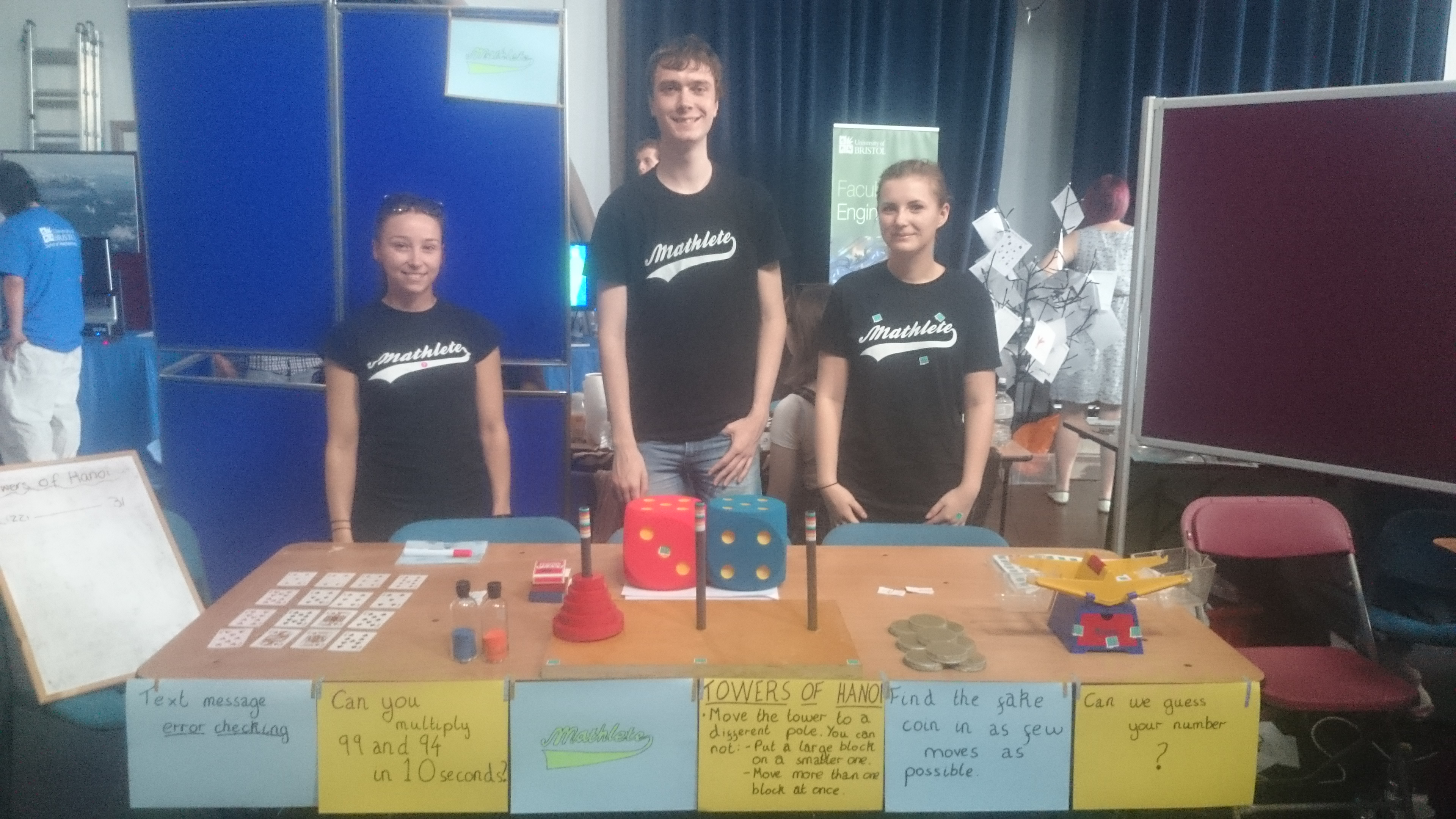 ---