BATH GEOLOGICAL SOCIETY
LECTURE MEETINGS 2015
---
Lecture Meetings at Bath Royal Literary and Scientific Institution,
16 Queen Square, Bath at 7.15 p.m.
---
February
March
April
May
June
July
September
October
November
December
AGM 2015
---
February 5th
Annual General Meeting, 2015
AGM will start at 7.00 p.m. followed by the lecture at 7.30p.m.
Searching for ancient earthquakes in the interior of Asia
Dr. Richard Walker, Dept. Earth Sciences, University of Oxford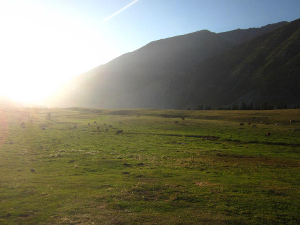 Photo showing the rupture of the 1911 Kemin earthquake in the Chon-Aksu valley, Kyrgyzstan (magnitude 8.1).
This earthquake caused substantial damage to the nearby city of Almaty in Kazakhstan.
Mongolia, Kazakhstan, and Kyrgyzstan are lands of high mountains, faults, and earthquakes in the heart of Asia. The active deformation is due to the collision of India and Asia, which has generated faulting and mountain-building covering a region stretching from the Himalaya to Siberia, and is one of the main testing-ground for theories of continental tectonics.
A feature of many of the regions in which mountains are forming at the present-day - including central Asia - is that they are situated hundreds, or even thousands, of kilometres away from plate boundaries. As well as causing a widespread hazard to local populations, the very wide distribution of faulting within the continents show that they behave rather differently from oceanic plates, in which relative plate motions are accommodated within very narrow plate boundary zones. We still do not understand the rules that govern the distribution, in space and time, of major episodes of mountain building; but an essential first step in understanding these rules, which remains one of the fundamental goals in the study of continental tectonics, is to provide constraints on the distribution, rates, and evolution of deformation.
In this lecture, Richard will describe some of his travels in central Asia, and will show the ways in which the landscape has been influenced by active faults and earthquakes. He will give examples of earthquakes from history and from prehistory, and will examine the hazard faced at the present-day.
---
Return to Top
---
March 5th
The Geological Exploration of the Moon
Professor Ian Crawford, Professor of Planetary Science and Astrobiology, Birkbeck, University of London
Professor Crawford will summarise what is known of the geology of the Moon and what it reveals about the history and evolution of the Earth-Moon system. His talk will describe what has been learned from 40 years of analysis of samples collected by the Apollo missions as well as more recent lunar missions, and make the scientific case for the future exploration of Earth's natural satellite.
---
Return to Top
---
April 2nd
Nanoparticles in Sandstone Groundwaters
Professor John Tellam, Water Sciences (Hydrogeology), School of Geography, Earth and Environmental Sciences, University of Birmingham
The talk will cover both manufactured nanomaterials and viruses, and what has been discovered about their mobility in the subsurface
---
Return to Top
---
May 7th
Numbers, models and layered rocks: what can we learn from numerical modelling of sedimentary systems?
Professor Peter Burgess, Head of Department of Earth Sciences, Royal Holloway, University of London
While many other areas of science, for example physics and chemistry, can use experiments to help understand how physical systems work, sedimentary geology has for most of its history been limited to observation of natural systems recorded in outcrop and beneath the surface in sedimentary basins. This has been especially problematic for our understanding of how sediments from modern depositional systems, for example deltas and shallow carbonate seas, are incorporated into the stratigraphic record and preserved as layered rocks or strata. An understanding of how sediments are deposited and preserved as strata is key to our understanding of Earth surface systems, and also of significant economic interest for water and hydrocarbon resource exploitation. New developments in the numerical modelling of sedimentary systems have much potential to address many of these issues. This talk will focus on examples of numerical computer modelling and attempt to show how results from these models are changing how we think about the nature of strata. Perhaps most importantly, the examples demonstrate how new hypotheses can be generated from these models, to drive a new generation of data collection from sedimentary rocks in outcrop and in the subsurface.
---
Return to Top
---
June 4th
William Smith's earliest career to 1810 (and thus his time in the Bath area)
Professor Hugh Torrens, Keele University
Smith's early 'career paths' were highly complex. His first employment was as 1) a land surveyor. Then in 1793 he became both, 2) canal surveyor, and 3) engineer, to the Somerset Coal Canal (SCC). These had guaranteed him a regular, and known, income. But this suddenly changed, when he was successively dismissed, first as surveyor, then as engineer, in 1799. He now had to find some other means of supporting himself. From the mid 1790s, he had done some 4) land drainage and irrigation work, for the chairman of the SCC, and immediately after his dismissals, was able to generate an adequate living from such work around Bath, during a period of very high rainfall. Some of this work took him to Tytherton in Wiltshire. Here he first encountered a new rock unit (the Kellaways Rock) and it was here that Thomas Coke of Norfolk was able to study Smith's skills with water. News of this competence quickly passed throughout an agricultural community, then desperate to increase food production, during a long period of wartime crisis.
Smith's water drainage and irrigation work were now widely taken up, first by the Dukes of Manchester and Bedford, in Bedfordshire, and then by Coke and his relatives, both in Staffordshire and Norfolk, and then by Coke himself and his many tenants in Norfolk. On top of this, Smith's skills as an engineer meant he was in high demand also as 5) a Sea Breach Engineer, in attempts to keep the German Ocean (now the North Sea) out of The Broads. But war time conditions were harsh, and bills often not swiftly paid (or even paid at all). So Smith also tried new careers as 6) a consultant mineral surveyor, or 7) as a failed author, on both Irrigation, and on Norfolk. But throughout this period, Smith's obsessive attempts to publish his geological discoveries, or even to find financial support for such a novel publication, were thwarted, by the bankruptcies of others, and proved to no avail.
This lecture will try and survey, for a first time, Smith's complex, and fluctuating, financial situations, over the period 1793 to 1819 (when he entered a debtors prison). His 'knight in shining armour' is undoubtedly the cartographer John Cary (1755 - 1835) who, in 1812, at last agreed to publish his great geological map. Thus, was accomplished by "the enterprise of a private tradesman..., [what] had been in vain expected from princely patronage and the sanction of national boards".
---
Return to Top
---
July 2nd
The Paleocene - Eocene thermal maximum: a geological insight into what is to come?
Dr. Stephen Grimes, School of Geography, Earth and Environmental Sciences, Plymouth University
The Paleocene - Eocene thermal maximum is a global greenhouse event that happened approximately 55 million years ago. This talk will explore the causes of this event and the impact it had upon the global biota and whether it can provide insights into what may happen if current global climate change continues unchecked
---
Return to Top
---
September 3rd
Geological evolution of N American cordillera
Dr Doug Robinson
The North American Cordilleran mountain chain runs N-S along western North America, and reaches up to ~ 500 km in width. The chain consists of a number of Mt ranges such as the Rocky Mountains and Coast Ranges, along with a variety of geological entities including the Basin and Range Province, Colorado plateau, Cascade volcanic arc, Columbia flood basalts and the Yellowstone plateau. These different regions record a remarkable geological evolution over a period greater than the entire Phanerozoic. This evolution records the change of the western coast from a passive margin, marking the breakup of the Rodinia supercontinent in the late Precambrian, to a active subducting margin culminating in the Larimide orogeny and the formation of the Cordilleran mountain belts. The Tertiary evolution marks the orogenic collapse phase, with the plate boundary between the Pacific and North American plates changing from a destructive margin to one involving the two transcurrent faults of the San Andreas and Queen Charlotte zones, separated by the remnant of the destructive margin that has given rise to the Cascades volcanic chain.
---
Return to Top
---
October 1st
A Bug's Life: The role of micropalaeontology in industrial problem solving
Professor Malcolm Hart, Emeritus Professor of Micropalaeontology at the University of Plymouth
Micropalaeontology is the study of microscopic fossils and has been used extensively by the hydrocarbons industry for the stratigraphical correlation of rock successions (especially recovered in boreholes). In many quarrying or engineering projects stratigraphical "control" is also required and this will be explained using the site investigation for the Thames Barrier and the construction of the Channel Tunnel as the leading examples.
Wednesday October 7th
William Smith Bicentenary: Visualising Landscapes and Geology, Past, Present and Future
Professor Iain Stewart, University of Plymouth
The Geological Society of London, Wills Memorial Building, University of Bristol
---
Return to Top
---
November 5th
The Geology of Decorative and Building Stones at Kingston Lacy - the William Bankes Palladian Mansion and Park, near Wimborne, Dorset.
Peter Bath, Dorset Geologists' Association Group
Kingston Lacy Hall is a major, but little known, competitor to Chatsworth for decorative polished stone; notably for foreign stones of Grand Tour Provenance. Two dozen notable rocks from the African Precambrian basement, Mesozoic Sediments and many resulting from the Alpine and Apennine Orogenies have been used extensively. They will be named, described and their provenance explored.
Originally brick built, Kingston Lacy Hall was clad in Chilmark stone by William Bankes in the 1830s while he had the interior re-modelled and decorated in the style of a Venetian Palazzo over another fifteen years. Following extensive Grand Tour travels, during his archaeology in Egypt and later exile in Venice, Bankes acquired from traders and masons both rare and fascinating stone as cladding, historical artefacts and sculptures, which he latterly 'overlooked' being loaded and shipped back to Kingston, for finishing and fitting by his steward Seymour. (A visit would not disappoint but beware some National Trust descriptions and early C19th petrology!)
---
Return to Top
---
The Geology of Anglesey
Dave Green, Geostudies
For years the geology of Anglesey has caused controversy amongst those studying its complex arrangement of seemingly unrelated fault blocks, particularly the status of the PreCambrian (or are they?) granites and gneisses, sedimentary extrusive sequence, blueschists, ophiolitic/deep ocean facies and melange. So complex that the very stratigraphy has been completely overhauled and re-interpreted twice during the last 100 years. In comparison, the thin and deformed unconformably overlying Lower Palaeozoic rocks are simple, as are the Upper Palaeozoic sediments, with their excellent environmental indicators. On a final note of controversy - why is Anglesey, composed largely of ancient, resistant rocks, so flat in comparison to the nearby mountains of Snowdonia? This talk and the field trip to follow, will attempt to outline the main elements of the geology of the island and the evidence that has produced such geological controversy.
This talk will be followed by a visit to Anglesey in 2016
---
Return to Top
---
February 5th 2016
Annual General Meeting, 2016
---