BATH GEOLOGICAL SOCIETY
FIELD TRIPS & VISITS 2017
Further details from the Field Trips Secretary
field@bathgeolsoc.org.uk 01249 443019
---
February
March
April
May
June
July
August
September
October
November
---
Saturday 25th February
Brown's Folly Nature Reserve
Professor Maurice Tucker, University of Bristol and Bath Geological Society
This is our annual clear-up of the geological sites aon this SSSI reserve. Come along with gardening tools or just take the opportunity to visit the sites and talk about geology. Meet at 10.30 a.m. at Browns Folly Car Park (G.R ST 798663). Strong boots, waterproofs & hard hats are required.
---
Return to Top
---
---
Return to Top
---
Lulworth Cove and east to Mupe Bay, Dorset
Leader: Maurice Tucker, University of Bristol and Bath Geological Society
Lulworth Cove is a classic geological section of the Jurassic Coast World Heritage Site. Highlights include the spectacular bay itself, Stair Hole and the Fossil Forest. At Lulworth we will see the Upper Jurassic - Cretaceous strata: tectonics, stratigraphy, sedimentology and palaeontology. The Portland limestone and Purbeck beds show oolites, stromatolites, collapse breccias from evaporite dissolution, lacustrine limestones with bivalves and gastropods; the overlying Wealden consists of fluvial sandstones (some impregnated with oil) and palaeosoils. The Greensand and the Chalk at the back of the Bay contain fossil echinoids, bivalves and serpulids. There are also spectacular folds and faults, at Stair Hole in particular.
There is much to see geologically around Lulworth Cove itself, but we will then walk along the Southwest Coastal Path to the east across the army firing range towards Mupe Bay. This 2-mile stretch is described as moderate and strenuous on the Jurassic Coast website and Mupe Bay as an "ideal spot for those who like their coastline wild, rugged and just a little bit dangerous!" ​ ​We will avoid the dangerous parts. There are some steps to climb to get out of Lulworth Cove. We hope at least to view the fossil forest from above, if access is still an issue following the cliff fall in 2015.
Meet at the Lulworth Cove car park at 10.30 am.
Post-code for the Lulworth car-park is BH20 5RQ. Price £7.50 for up to 6 hours (£9 >6 hrs).
We will aim to be finished by 16.00.
Strong footwear and packed lunch will be needed.
Transport will be by private car. We will try to arrange lifts.
Sign-up for the trip on the sheet at the February (2nd) or March (2nd) meeting of the Bath GS at BRLSI or contact bob_mustow@hotmail.com or 01249 443019 or mobile 07712 776117.
---
Return to Top
---
---
Return to Top
---
June
---
Return to Top
---
---
Return to Top
---
---
Return to Top
---
Deadmaids Quarry
Deadmaids quarry just to the west of Mere is an S.S.S.I. for the only clear location showing the junction between Upper Greensand and the Lower Chalk. The whole face is obscured by ivy, grass and brambles. Parking is at the back of the trading estate just next to the location. Bring gardening gloves, secateurs, loppers hard hat and eye defenders will keep out the debris. Bringing a packed lunch is recommended.
This site is of importance both for the Chalk and for the Upper Greensand units of the Cretaceous. The quarry provides the finest available section in south west England of the Upper Greensand/Chalk transition as developed in the area to the north of a shallow area in the Cretaceous sea known as the 'mid-Dorset Swell'. The unique and highly fossiliferous 'Popple Bed' is well exposed above the Chert Beds, and is of importance for the rich and diverse assemblage of fossil bivalves, gastropods, ammonites, brachiopods and echinoids which it contains, mainly as phosphatised casts. This is a key locality for study of the palaeontology of the lowermost part of the Chalk (the Cenomanian Stage) in Britain
See: www.thegcr.org.uk/SiteReports.cfm?Step=3v for more information about the location.
If you have any queries concerning the trip please contact Isabel Buckingham at isabelbuckingham@btinternet.com or tel 01985219313.
Directions
From A303 heading east: turn off left for Mere which is a sharp turn; follow signs, go under A303 and just after the turn to he left B3095, turn right into Trading estate and follow round to the left and behind as there is lots of marking space just by the site.
From A303 heading west: take the slip road left into Mere and proceed through the little town on what was once the main road. As you exit westwards just before B3095 turn right into trading estate and bear left then right.
From north in Wiltshire: Aim for Warminster ring road A36, and take A350 south signed Shaftesbury. IGNORE sign for Exeter, go under A303, turn right at Traffic lights then you can filter onto A303 westbound which is safer, then follow above.
From north in Somerset: Easiest to find A303 anywhere and head east until Mere turn off, head for Frome and on ring road take B3092 which will take you past Stourhead.
---
Return to Top
---
Ogmore and Southerndown Dr. Geraint Owen, Swansea University
Mesozoic rocks unconformably overlie Upper Palaeozoic rocks in the Vale of Glamorgan. The rock units and their relationships are superbly exposed along the spectacular Glamorgan Heritage Coast. Highlights include richly fossiliferous Carboniferous Limestone and Blue Lias (early Jurassic); marginal facies of the Mesozoic that developed close to upstanding areas of Carboniferous Limestone and are preserved adjacent to unconformities in the form of wadi breccias and rocky shoreline deposits; a variety of styles of unconformity; and impressive folds and faults.
Meet at the car park at the south end of Ogmore-by-Sea village (SS 869 734) at 10.30 AM and later move to the car park at Dunraven Bay.
There is plenty of parking available but with pay-and-display fees at Ogmore and a toll at Southerndown. Strong footwear and packed lunch will be needed.
---
Return to Top
---
Saturday/Sunday 4th and 5th November
Festival of Geology
Location: University College London, Gower Street, London WC1E 6BT
Festival Speaker Timetable
Festival of Geology on 4th November 2017

PLEASE NOTE: All talks are in the DARWIN lecture theatre at UCL

11.30-12.15 - Dr. Susannah Maidment, "How to weigh a dinosaur"

12.30-1.15 - Prof. Chris Jackson, "Hot Rocks Under Our Feet: What Can we Learn About Volcanism From X-raying Earth?"

LUNCH BREAK

At 2pm, the GA President will present prizes to the winners of the Photographic Competition in the Darwin lecture theatre

2.15 – 3.00 - Prof. Iain Stewart, "Hot Rocks: the Fall and Rise of UK Geothermal Energy"

3.15 – 4.00 - Prof Lidunka Vocadlo, "Core! What a scorcher! Hot and squashed in the centre of the Earth"

For details, see https://geologistsassociation.org.uk/festival.html
---
Saturday 25th November
Bradford on Avon - Geological Site Clearance
In 2007 an area in Bradford-on-Avon was excavated to reveal a new geological site, showing how the area would have looked 165 million years ago. The site is on the dip-slope of the Cotswold Hills, in the Mid-Jurassic Forest Marble Formation. The rock formation, some 24 metres thick, consists of alternating limestones and clays. A particularly thick layer of clay, known as the Bradford Clay, occurs here above the limestones and a number of fossils including sea lilies and brachiopods can be seen.
The site has been monitored and maintenance carried out since 2007 however it has now reached the point where it needs clearing once again. The pit walls have sloughed material and are quite overgrown and the ground level seems higher today than when the pit was first dug out.
Equipment
We'll need spades, mattocks, large pruning shears, a pruning saw (just in case), a garden fork and pickaxe to lever tough roots out and rugs to move waste soil. If you don't have any equipment there will be a selection on site for people to use.
When
Saturday 25th November at 10am
Directions
The site is located in the British Waterways car park at the end of Baileys Barn road, off Moulton Drive. The site is at the north end of the car park – look out for the information board. Please see the below map for further information.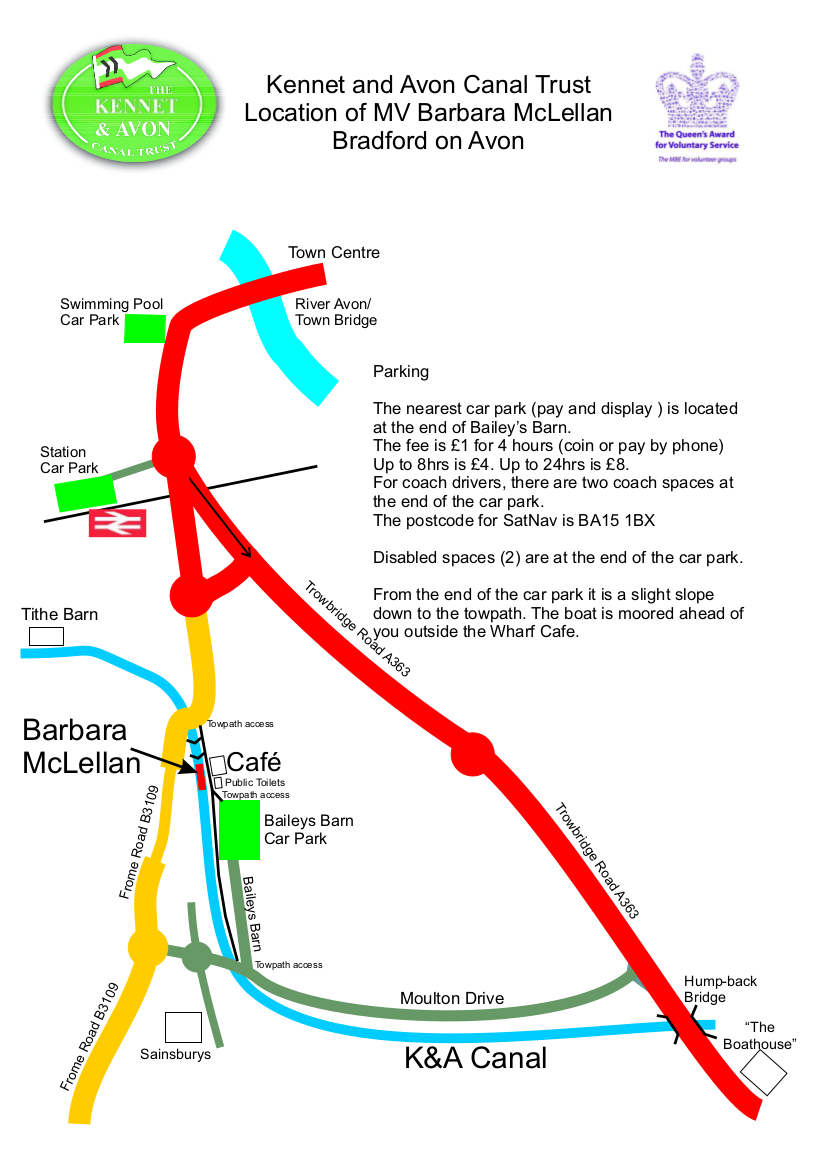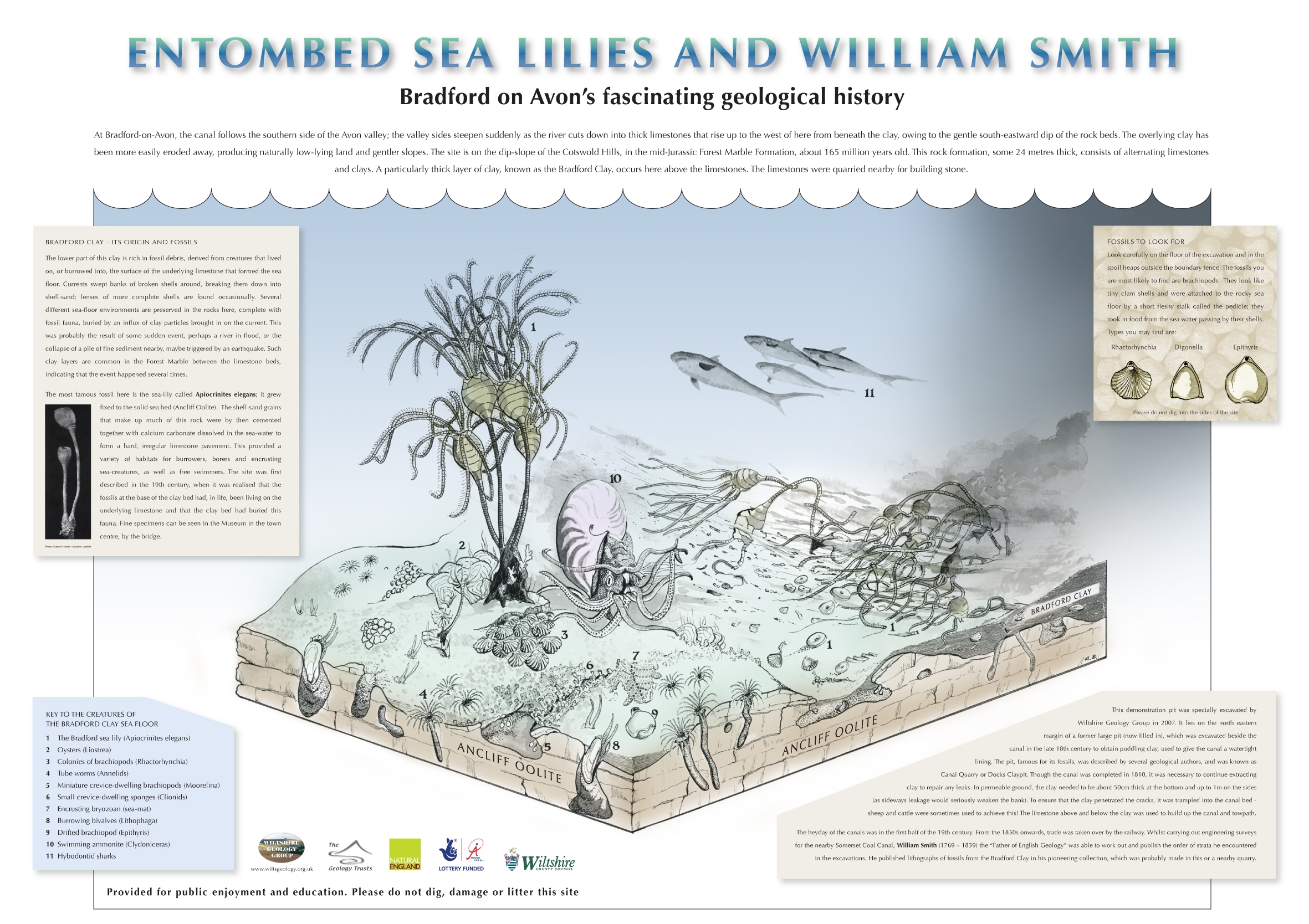 ---
Return to Top
---
~END~